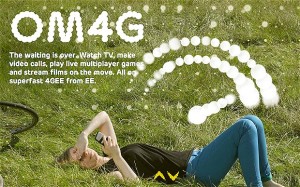 EE has announced the next 17 areas to get 4G super-fast mobile broadband. The network hopes to get them all live by March next year. 4G is the successor to 3G and, at the moment, is running about five times faster. This means that users can stream high def video without the need to wait for buffering and video calls can also be made at a much better resolution.
EE is the UK's first 4G mobile network after the Ofcom auction was delayed. This meant that they would be the only network permitted to offer a 4G service until the other 4G frequencies would be released to the other networks.
EE is a 4G-only network made up of T-Mobile and Orange and they launched the 4G service originally on 30 October 2012. The initial cities to get the service were Birmingham, Bristol, Cardiff, Edinburgh, Glasgow, Leeds, Liverpool, London, Manchester, Sheffield and Southampton. Now EE plan to expand to Belfast, Hull, Maidenhead and Slough by the end of the year.
However, today is the first time we heard about EE's rollout plans after that. They have confirmed the regions that will get 4G next. Of course, to take advantage of it, your phone must be 4G-ready. The 17 new towns and cities are as follows:
Bradford, Chelmsford, Coventry, Doncaster, Dudley, Leicester, Luton, Newport (Wales), Reading, Rotherham, St Albans, Sunderland, Sutton Coldfield, Walsall, Watford, West Bromwich and Wolverhampton.
By adding these new regions, EE claims that an addition 4 million people will be able to access the super-fast mobile broadband. It will also bring the total number of towns and cities with that capability up to 35.
EE's plan is for 98% of the UK population to have access to 4G at home by the end of 2014 which is still some way off. However, EE is also saying that it's upgrading the speed of its 3G network in other regions in the mean time. This might be good news for customers put off by the very high costs and low bandwidth allowances offered on 4G by EE. The network is desperate to cement a strong foothold in the market before the other rival networks are allowed to offer their own 4G services.
Have you used 4G yet? Do you often need your connection to be so fast? Do you think it's worth the high costs? And if you haven't got it yet, are you excited about the next stage of the roll out?