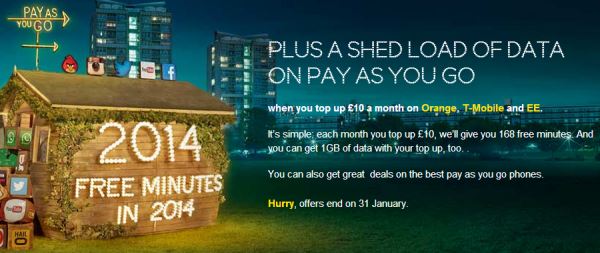 If you're looking for a great pay-as-you-go deal, you better be quick because until the end of the month, EE is offering all pay-as-you-go customers 2014 free minutes to call any standard UK number.
The offer is valid for all new customers signing up before the end of January 2014. And it's available for everyone regardless of whether they're on Orange, T-Mobile or even EE's new 4G pay-as-you-go service.
It's really simple to get started, first of all you just need to order a free SIM from either Orange, T-Mobile or 4GEE. Of course, you also benefit from being able to use signal from all the networks as they are all owned by EE.
To qualify, there is a bit of a catch as you have to regularly top up £10 to receive your monthly allowance of 168 free minutes. However, the good thing is that the bonus minutes come on top of your existing tariff. And you can use them for any call to UK based mobile or landline number as well as calls to your voicemail service.
As an example, if you sign up to Orange's Dolphin plan, you get 400 texts and 1 GB of data free every month. And with this year special offer, you also get 168 minutes as well as your £10 top up in airtime credit. And of course, don't forget that if you decide the top £20 each month on the Dolphin plan, you get unlimited free text as well as 3 GB of mobile data. So while, at first glance, it might not seem at the most competitive deal you can actually get a huge amount for your money if you choose the right tariff.
T-Mobile also have attempting deal with their £10 Smart Pack. Once you've included the bonus minutes on offer, this gives you a total of 268 min, 400 texts and the whole gigabytes of mobile data awful £10.
Although it can't offer as good deals, 4GEE might also a good choice as it comes tonnes of extras including 2-for-1 cinema tickets and pizza express every Wednesday, free wifi internet on the London Underground, £5 off ADSL and fibre broadband deals as well as the UK's first and broadest 4G network.
Want to get your free 2014 minutes this year? Order your free SIM today before it's too late.