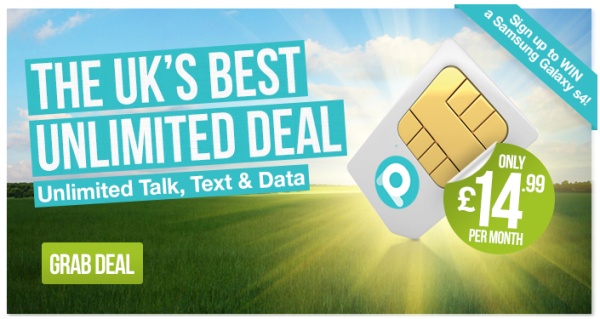 The People's Operator have come up with what we reckon is their best offer yet. For a limited time you can get a great-value unlimited tariff for just £14.99.
This must be the cheapest unlimited bundle currently available but you better be quick as it's such a bargain they're only making it available until the end of February.
Not only are you making an ethical choice but also you get a great signal and the tariff doesn't lock you into any sort of contract or force you to sign up for two years in advance. It's just their normal 30-day rolling subscription which you can stop or change whenever you fancy.
It's undeniable that this is a fantastic proposition that many people will be eager to snap up while they can. But in case you're not sold yet, we have a few extras to sweeten the deal.
Not only do you get unlimited everything for less than fifteen quid but if you order now you also will be entered into an exclusive prize draw to win a brand-new Samsung Galaxy S4 smartphone. There are also five runners-up prizes of £15 free credit. So if you're feeling lucky this is a nice added bonus.
Even better we can also offer you a free month of this unlimited allowance. Yes, really! Just enter the code TPODEAL when you sign up for your SIM card and you'll get your second month on this deal completely free.
To summarise – this is one of the only unlimited tariffs currently available and it's at the ridiculously low price of just £14.99. Not only that, but everyone also gets one month free as well as the chance to win some fab prizes. Of course, you also get the satisfaction and warm feeling of knowing you're doing good at the same time. The only issue is you need to act now because the 28th will be your last chance to get in on this offer.
So what are you waiting for? 🙂