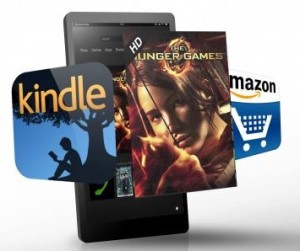 Recent rumours are reported to be true as it emerges that online retailer Amazon will release its own 3D smartphone. Following a lot of guessing and official denials, it now seems pretty clear that Amazon is set to release its own phones some time this year. Already producing its own Kindle range of tablets and e-books, the e-commerce behemoth aims to bring the battle to tech rivals Google and Apple.
One of the most cutting edge devices thought to be coming later this year is a 3D smartphone that does not require glasses. Whether this will use advanced retina-tracking technology or work in a potentially similar way as the Nintendo 3DS handheld console has not been officially confirmed yet..
Amazon officials have refused to confirm the rumours but we've heard from insiders who are adamant that the Amazon phones are coming soon from the secretive Lab 126 facility in California. Industry experts say it is likely that there will initially be about four different models including the 3D version.
The smartphone hardware market is a very tough nut to crack as Asian manufacturers such as HTC have learned to their detriment in recent months. Even business-favourite BlackBerry has been feeling the pinch in recent years as the sector is increasingly dominated by two major forces – Apple's iPhones running iOS and Samsung's range of Android smartphones. Together they account for well over 50% of sales.
The gimmicky 3D screen will certainly be one of Amazon's made selling points as it attempts to carve out a unique niche for itself in the already-mature smartphone market. Its success with its Kindle devices will be promising as well as its heft and might in the online retailing sector. Still, there's no denying that the competition is very stiff and its far too early to make a call whether these new Amazon phones will be successful or not.
Amazon's existing business model relies on selling hardware at very low margins indeed to tempt consumers with much better value than is available from other manufacturers such as Apple. Then, they hope to make their profits from on-device sales of content such as e-books and downloadable videos. Amazon already owns film-streaming service LOVEFiLM.
Amazon is definitely investing in the future with this move and will be hoping to keep investors on-side and increase revenues despite poor profit results for the company's entire history and a recent backlash amongst consumers about the company's dodgy tax-avoidance tactics. We're not yet convinced by 3D on smartphones but it remains to be seen how well it works on these particular handsets. At the moment we're keen to get more firm news about this but most of the available information is merely speculation and guesswork.
What do you make of this news? Can you see 3D smartphones being worthwhile? Is it too late for Amazon to enter the smartphone market? And how well do you think these new phones will sell? We're looking forward to hearing your opinions and comments.