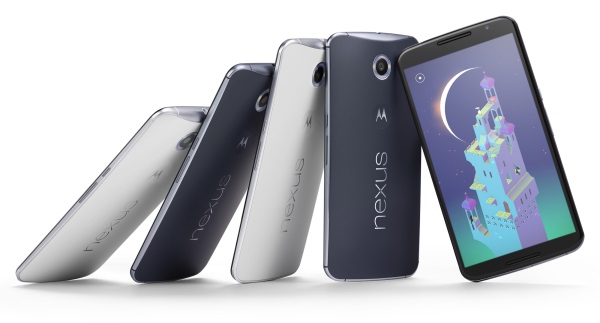 Google have officially revealed that the name for the new version of Android 5.0 will be "lollipop". Previously codenamed Android "L", the latest release continues the alphabetical naming scheme and Google have comfirmed that the coding is completely finished unlike previously-seen developer previews.
Android Lollipop replaces the current version of Android which is KitKat 4.4. It's hard to believe but it's now a year old having been originally released back in October 2013. There isn't too much to get excited about with the main new features being a built-in battery saver mode and multiple accounts/profiles for guests. It also will feature Google's new "material design" as well as the ability to unlock your device securely over Bluetooth.
Here at MNC, we're looking forward to trying the finished version out. Google have announced that it will be rolled out onto their Nexus devices over coming weeks. We also can't wait to see what independent developers do with Android 5.0 and hope to see it being featured in some custom ROMs as soon as possible.
Speaking on the Nexus devices, Google also confirmed the details of their new Nexus 9 Android tablet as well as the massive Nexus 6 phablet that had been codenamed "Shamu". Both will be out for preorder shortly.
The official price for the Nexus 6 in the UK hasn't been released yet. But it will cost $649 for the 32GB version or $699 for the 64GB version in the US. We predict the initial cost to be around £525 for the smaller version and over £550 for the 64GB model.
Like its predecessor, the Nexus 5, Google's new flagship phone is made by Motorola. In fact, it looks very similar to their Moto X handset, only bigger and better.
Most of the tech industry's predictions about the specs have turned out to be correct. But the performance of this is going to be gargantuan. It comes with a Snapdragon 805 SOC offering a quad-core 2.7 GHz Krait 450 processor. Its lightning-fast speed will be supplemented by the Adreno 420 GPU and 3GB of RAM.
One thing you can be sure of is that the Nexus 6 is going be huge with a massive 6″ quad HD display (5.96″ to be precise) dominating the front of the phone. This is running at a resolution of 1440 x 2560 and offers a stunning 493 ppi.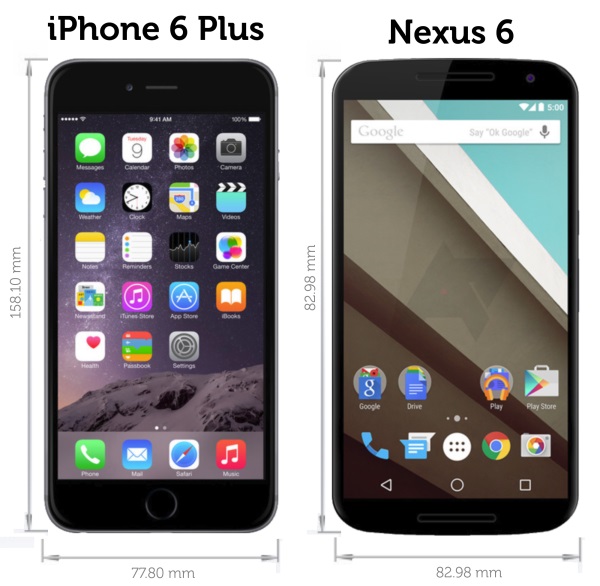 Many people have suggested that the Nexus 6 is far too big for a phone. But we produced the following scale mock-up to compares its size to the new iPhone 6 Plus. You can see that although the 6 Plus only has a 5.5″ display, it's only negligibly smaller than the Nexus 6 and should feel roughly the same in the hand.
In fact, they are almost identically sized with the iPhone 5 Plus coming in with a height of 158.1mm compared to the Nexus 6's 159.26mm. The new Google phone is only 10.06mm thick (we'd prefer thicker with a better battery) and weighs about the same as the iPhone at 184g.
The main reason it fits so much more into a similar-size package isn't because the iPhone has a thicker bezel. In fact, the main reason why the iPhone suffers a much smaller screen is mainly because Apple haven't moved onto contextual on-screen buttons yet and since the gimmicky Touch ID home key takes up so much space. However, despite being comparable in size, there's no denying the Nexus 6 is huge by any standard and many will not find this acceptable instead choosing to stick with the older Nexus 5.
We're super excited about 13 megapixel camera which now comes with a f/2.0 aperture lens. Although you won't get the sort of creamy paper-thin depth of field you can expect with a larger sensor, it's going to look great and importantly perform better in low light conditions and at higher video framerates (especially coupled with OIS). Of course the built in panorama and HDR software is getting better all the time and it also has a dual led ring flash. Best of all it can record amazing 4K video at full 30fps but the front-facing camera is only 2 megapixels.
Other features include dual speakers and finally, finally, a half-decent-sized battery and quicker charging. Google claim the 3220mAh cell will last up to 250 hours standby or 10 hours of mobile data/video playback with a talk time of about a day. Sadly there's still no expandable memory slot – Google, you make us sad 🙁
What do you think about these new announcements? What features are you most looking forward to in Android Lollipop? And is the Nexus 6 too big for you or do you prefer a smaller handset (which)? Let us know in the comments below.