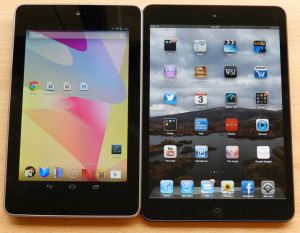 The latest figures seem to suggest that Android tablets will soon start outselling their iOS competitors. A report from IDC claimed that 2013 will see mobile tablets running Google's operating system shift more units than Apple's dominant iPad range for the first time ever. It's thought that people are starting to realise that the tablet market isn't just limited to Apple's devices and that Android versions can offer great value for money.
A huge driver of the surge in tablet sales is the much lower-priced models available outside of the Apple walled garden. You can quite often get a much more powerful and feature-laden device for less money than even older versions of the iPad.
Customers are also making it clear that they like smaller form-factor tablets as larger versions rapidly fell behind in sales. In fact, recent results indicate that over half the tablets sold so far this year are smaller than eight inches on the diagonal. These sales figures suggest that Apple made a mistake with the original iPad models and probably should have released the iPad mini or something similar sooner than it did.
There is much more choice from Android if you want to buy a smaller tablet. For example, one of the most popular tablets currently available is the Nexus 7. It is a Google-branded device designed and developed with Taiwanese hardware company Asus. The Nexus 7 has already won several awards and accolades including T3's Gadget of the Year and Tablet of the Year ahead of the new iPad.
Overall though, tablet sales show no sign of slowing down. They are still one of the most popular categories of consumer electronics item. In fact it is predicted that over 300 million tablets will be sold over the next 4 years. That's including 200 million units that are expected to fly off the shelves this year alone.
As for market share between Apple and Android, IDC's research suggested that Google's OS would have a dominant 48.8% market share by 2014 compared to iOS's waning 46%. At the same time, Microsoft's range of tablets is predicted to fight its way to a foothold in the market too. However, it doesn't seem like it will ever have time to catch up – in four years Microsoft is only predicted to get a 7% share of tablet sales.
One trend that looks sure to continue is the growth of the smaller tablet market. IDC expects that over the next couple of years tablets that are 7″ in size or even smaller will become increasingly popular and manufacturers will release new products to fill this niche.
What's the ideal size of tablet for you? Do you think the original iPad is too big? And which do you prefer and why – Microsoft, Apple or Android?