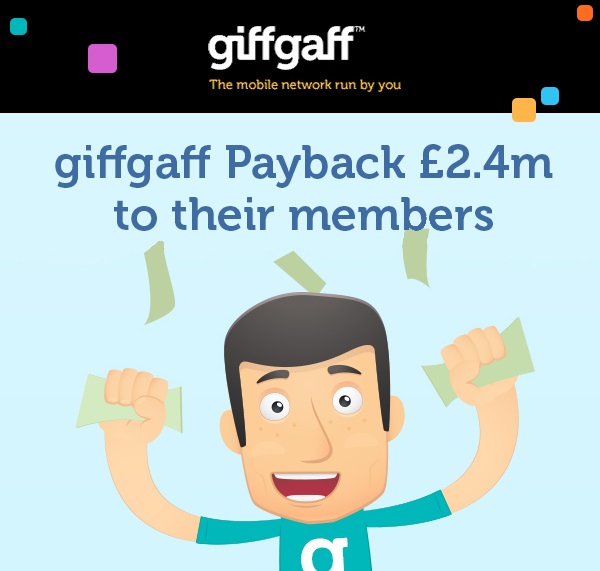 Giffgaff remit payback payments every six months in December and June. The latest payback period ran from December 2013 to May 2014 and the budget virtual network just released the latest statistics from their most recent payout. Payback is their way of providing mutual returns to their members that they have been doing since they first launched. This time the total paid out was over £2.4 million!

Giffgaff market themselves as "the network run by you". This means that they go to significant efforts to solicit feedback from their users and also reward users for helping out in their community forms. They save money by relying on users as the front-line customer support. And the forums are filled with useful members willing to help out with minor issues such a APN settings or activating a SIM card.
In return for their work, Giffgaff rewards helpful users with payback – money that they can choose to receive either as airtime credit, cold hard cash or as a charitable donation. Keeping in theme, Giffgaff allow its members to choose the charities each payback period and match all the contributions with their own donation.
Payback is processed every six months in June and December and, as Giffgaff has grown as a network, the amount of people helping out has grown massively as has the amount of money paid back to the community. We've been carefully charting Giffgaff's paybacksince the first payments went out back in June 2010.
We put together the graph below keep track of Giffgaff's payback payments so far. What do you think will happen to the trend in the future?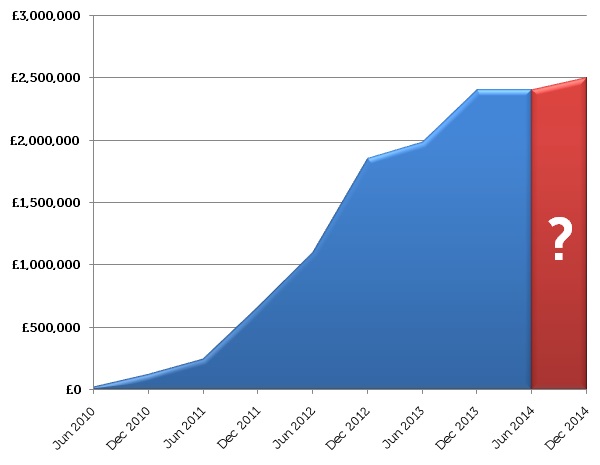 When the network first started, the total payback given out was only £27,000. But it soon reached a quarter of a million and by May 2012, Giffgaff had massively expanded and payouts hit over £1 million for the first time. The graph got even steeper over the next year or so before levelling off just below £2.5 million where it is right now.
They have also been giving more and more to charity. In 2011, after Giffgaff doubled the amounts, donations were about £15,000. And in the last twelve months generous users have contributed over £50,000 to charity which Giffgaff have doubled again. Overall, over £200,000 has been even away in total.
Giffgaff's CEO Mike Fairman has also revealed that members such as uzzyy have earned about £20,000 a year from working with the network. The top earner regularly makes over £10,000 every six months.
For more information, check out this cool infographic. But to summarise, Giffgaff stats also show that members from London earn over £1 million every payback period with the West Midlands not far behind and the North West of England making almost £1.6 million! If you'd like to earn payback too you should get involved and sign up to a Giffgaff account.
Ordering a SIM card to get started is completely free. You also get £5 free credit to start you off and you will be able to start earning as soon as your activate your SIM card. You don't even need to use it – just having an active SIM qualifies you to get payback payments!
Are you a Giffgaff customer already? How much payback did you earn this time round? And what's your best guess for the total paid out next time in December?