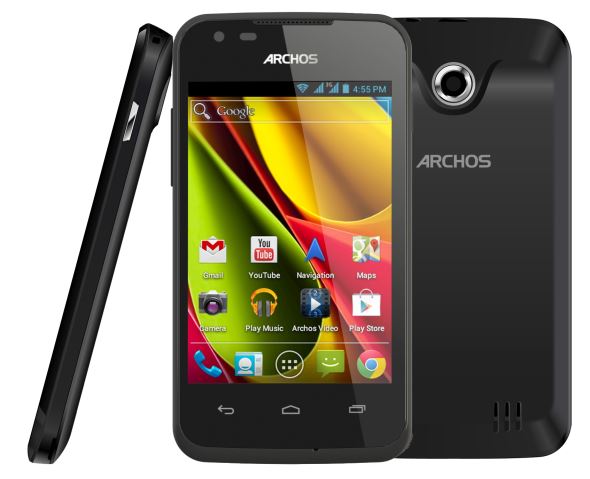 French technology company has announced that it will soon release its first smartphones. The new devices will all be touchscreen smartphones. They will be called the 35 Carbon, 50 Platinum and 53 Platinum and will be running Google's Android OS.
Archos has been running since 1988 and is best known as a manufacturer of mp3 players and PMPs (Portable Media Players). It made a name for itself in the early days of mp3 players with the rugged Archos Jukebox series which first came out in 2000. These mp3 players bucked the trend for small flash-memory based devices as it came with a massive 20 GB hard drive inside.
Since then, Archos have been one of the few PMP manufacturers to bother to include a decent amount on on-device storage. While trendy iPod users are content with tiny players, those with decent sized mp3 collections or who prefer lossless formats have had to rely on Archos to produce quality players.
Unlike other competing devices, they also have very good compatibility being able to play Ogg Vorbis files and FLACs as well as mp3s. Best of all, they usually have great recording facilities too. These far superior features have set apart Archos over the years from its mainstream rivals.
In recent years, the company has been pushing DVRs and internet tablets that double as video and music players. In 2009, the first Android-based device was released – the Archos 5. It is now on its eighth generation of internet tablets and is still running on Android.
However, it has to be said that the company's experiment with Android hasn't been a 100% success. Although the Archos mp3 players boast far superior features to most other dveices, stability has been a major issue. Archos have also had a very poor developement cycle and often release devices will very out-of-date versions of the OS on them. Either that, or the hardware can't support more recent releases.
The net result is that the Archos Android devices so far have been slow and buggy and come with Android versions that are several years old. This means they are not only slow but they also are a very poor advertisement for the platform.
It has been rumoured for some time that they would move into smartphones and, with this latest announcement, hopefully we will see a better standard of product being released.
All the Archos phones will be low priced with the cheapest, the Carbon 35, coming in at just £70. It, however, will already be out-of-date when it is released as it will only ship with the last version of Android, Ice Cream Sandwich. It also boasts very impressive specs for the price – a 1 GHz processor, half a gig of RAM and a nice 3.5 inch screen. It even will have both front and rear cameras.
The next model up is the Platinum 50 which will be £180. This will run the most recent version of the Android operating system, Jelly Bean 4.1.2. The RAM is doubled compared to the Carbon 35 and it will have with a faster processor and a 5 inch screen. The Platinum 75 will be exactly the same specifications except that it will have a slightly larger 5.3 inch screen instead. It will set you back £200.
We're quite excited to see what these phones turn out to be like, especially the cut-price Archos 35 Carbon. We'll be back with more news nearer the release date which is currently scheduled for the end of May.
What do you make of this? Have you ever owed an Archos device before? Are you excited about their new phones? Is the budget end of the market too saturated already? And which model do you think will be the most successful?