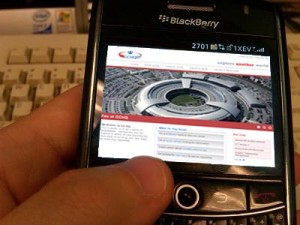 Following our report yesterday, BlackBerry have manoeuvred swiftly to deny claims that they have had their security cleared rejected by the UK government. They have been very quick to get an official statement from the UK government and to submit press releases correcting similar stories in major press publications.
BlackBerry's statement reads as follows:
BlackBerry has a long-established relationship with the Communications-Electronics Security Group (CESG) and we remain the only mobile solution approved for use at 'Restricted' when configured in accordance with CESG guidelines.

This level of approval only comes following a process which is rigorous and absolutely necessary given the highly confidential nature of the communications being transmitted. The current re-structuring of this approval process, due to the Government Protective Marking Scheme review and the new CESG Commercial Product Assurance scheme has an impact on the timeline for BlackBerry 10 to receive a similar level of approval.
BlackBerry also went to pains to emphasise its security clearances in other jurisdictions. Its statement went to great length about how the BB10 operating system has attained FIPS 140-2 certification. This is a US government computer cryptography security accreditation. Although they don't mention which level BlackBerry 10 devices have been validated at and Security Level 1 is pretty basic, this does demonstrate that BB10 is trusted by other government bodies. BlackBerry also mentioned that the German government's Bonn-based Bundesamt für Sicherheit in der Informationstechnik (BSI or Federal Office for Information Security) are also using BB10 devices and that they are continuing to liaise with CESG to get approval from the UK government.
Despite these statements, analysts suspect that BlackBerry 10 may still be in some trouble. The response to their new flagship devices, the Q10 and Z10, has been somewhat underwhelming in Europe. There was an initial surge in sales from diehard fans when the smartphones were first released back at the beginning of the year, but commercial figures have slumped significantly since then.
In fact, many retailers are currently burdened with lots of excess stock of BB10 devices. This has resulted in discounting of these smartphones already. The situation is also the same in Canada with a significant dip in sales in recent weeks. BlackBerry's Z10 will go on sale in the US today and the company will be desperately hoping for a strong result when the sales figures first come out. They will be desperate to reverse the trend that has seen market share plummet from over 20% to just under 6% in the last 30 months.
There is good news from the stock markets though. On Wednesday there was a significant spike in the share value of BBRY. The price went up by about 6% following reports that Morgan Stanley's a managing director of technology, Ehud Gelblum, reversed his previous assessment and publicly backed them as a buy recommendation. The only negative thing about this otherwise-promising development is that Gelblum's call isn't necessarily based on BlackBerry's positive aspects but rather more based on Windows Phone 8's shortcomings leaving a gap in the market.
What do you think about this? Will BB10 eventually get certified for Restricted access by the UK government? Are the sales of the Z10 and Q10 going to pick up? And will BlackBerry be able to turn around their fortunes over the coming year?