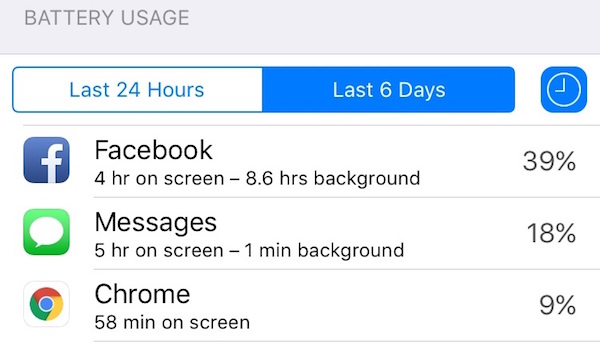 Name the number one gripe most iPhone users have and there is a good chance that a large percentage of them will complain about battery life. Trying to squeeze your phone battery to last from breakfast until you get back from the pub at midnight is virtually impossible for most users. And that is the case even without heavy YouTube viewing or passing time on the bus or train with your favourite game. Apple has assured buyers of the new iPhone 6S that battery use will be much better than before. But many users are not confident that this is indeed the case.
Now Facebook has announced that maybe, just maybe, their iOS app could be a silent battery strangler!
It took user complaints to prompt the social media giant to acknowledge there could be a problem with Facebook on iPhones. One such user is entrepreneur Matt Gilligan who found that Facebook was causing a 15% battery drain on his iPhone 6S Plus over a seven day period. As he stated in his blog: "Despite having background app refresh disabled, because the app isn't 'sleeping' properly when I hit the home button, it continues to drain. That extraneous background usage, despite not providing any value to me at all, is keeping the app alive 2x longer than my actual usage."
It has been reported in other publications that users are finding heavy battery drain by Facebook in spite of having background refresh disabled. One user reported that Facebook was draining 39% of his battery and running for eight hours in the background with the app disabled.
One of the problems could be the auto-play of videos which is enabled by default on both wifi and mobile data. This could be a contributing factor to the heavy battery drain, as well as causing excessive data usage.
Facebook confirmed that they are aware of the problem and that they hope to be able to put out a fix "soon". However they are not revealing what line of investigation they are following. There is a lot of speculation over what could be causing the battery drain, from suggestions that it might be a case of audio hijacking and/or using VoIP to keep the app awake against the user's wishes.
What we do know is that Facebook is dealing with the issue and it is likely that an unannounced patch will be part of the next upgrade – hopefully thereafter your phone will wait until you get home from the pub before passing out!