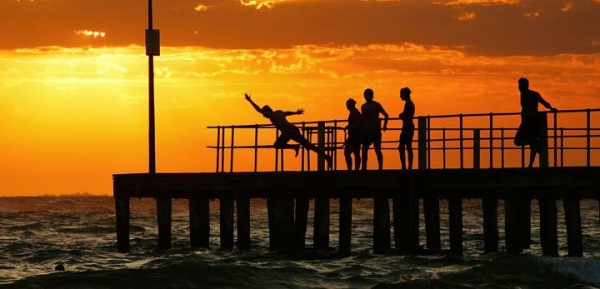 While we're hoping for a white Christmas here at Mobile Network Comparison, over in the antipodes a woman enjoying a trip to Melbourne was glad that the weather's currently rather balmy.
Senior Constable Julie-Anne Newman from the local Victoria police department reported last week that a tourist fell off St Kilda pier as she was too engrossed in browsing Facebook on her smartphone to notice the end of the promenade.
Just before midnight local time, the woman fell into the water and, unable to swim, frantically splashed about. Her efforts didn't do her much good as she failed to climb back out again and soon found herself about twenty metres out into Port Phillip Bay.
Bystanders and onlookers were not forthcoming in their attempts to help her. It took police in the vicinity to help locate the woman and orchestrate the rescue by specialist police boats.
On this blog we've already covered the reasons why it can be a bad idea to walk and text at the same time. But maybe we should be explicit is saying that it's a good idea to keep your eyes off your phone and on where you're going if you're on a pier in the middle of the sea without any safety barriers. Especially if you can't swim!
Thankfully, although the woman was taken to hospital for treatment, we came to no harm. Nor did her mobile phone as she desperately held onto it the whole time she was trying to avoid drowning.
Personally, we don't think she even wanted to join Facebook in the first place. We have a suspicion that it was pier pressure!