It's only been out a month by now, but Samsung's widely-fêted flagship Galaxy S4 smartphone has already sold over 10 million units. Over the time period its been out, Samsung have shipped an average of one phone every quarter of a second!
Hailed as the most feature-laden and fastest handset ever produced, the Samsung Galaxy S4 hows wowed critics and consumers alike since its launch in April. We previewed it here and gave the best prices available here. Samsung have managed to cram in some of the most amazing abilities making use of the sheer flexibility and power of Google Android operating system.
The sales figures really do speak for themselves. Compared to the previous model, the Samsung Galaxy SIII, sales have been almost twice as fast. And looking back at the SII and original Galaxy S, there's a pretty clear trend – smartphones are getting almost exponentially more popular and Samsung's offerings are doing particularly well. The graph below should dramatically indicate how pleasing these sales figures will be to Samsung.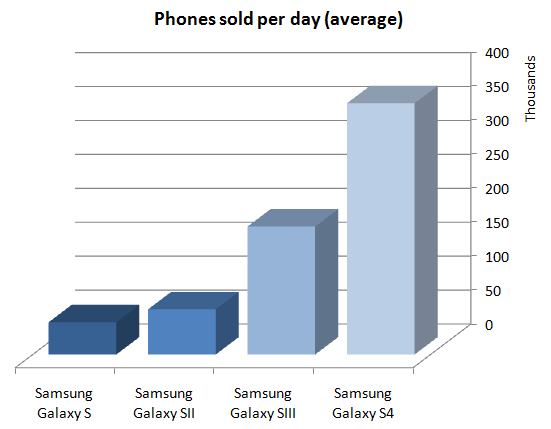 It's hard to make a direct comparison to Apple's iPhone 5 as they have not released relevant figures. However, their last financial report admits that only 40 million iPhones of all models have been sold over the last quarter. While these are still very strong sales, it should amply demonstrate what a potent threat Samsung poses in respect to the iPhone's dominance.
In fact, it seems that the Galaxy S4 has achieved these dominating figures in spite of supply chain issues early in its launch cycle. The US roll-out was said to be significantly disrupted due to stock shortages as demand greatly exceeded supply. Still, although Apple will be worried, there's not too much to fear as they have very impressive sales figures too. Often their fans buy new phone models up much faster in the early stages of a new handset's release. For example, Apple took over 2 million pre-orders for the iPhone 5 during the first day following its launch.
The Galaxy S4 is still widely-acknowledged as the most powerful phone currently released. It's also available in over 150 countries right now from a massive range of over 300 different mobile networks. And Samsung plan to push on by releasing new models in the coming months. It's currently available in just two colours but more different options are coming soon. IN the next couple of months consumers will be able to choose from new red and blue versions and after that the South Korean company plans to release a brown model as well as a purple version.
Whatever you think of the Samsung Galaxy S4, there's no denying that the latest sales figures are a welcome surprise for Samsung. Most analysts expected that the monthly sales would eventually peak at about 9 million but the fact that Samsung achieved this aim quite so quickly is a massive boost to them and fans of Android as well. The smartphone wars are now well and truly on and with the success of the Galaxy series of handsets its no longer seeming like people are looking for the next iPhone-killer – it's already here and alive and well.
What do you make of this news? Did you expect the S4 to do so well even though it offers relatively few relolutionary features? What smartphone do you prefer – the iPhone 5, HTC One, Samsung Galaxy S4 or a Nokia Windows Phone? And what do you think will turn out to be the next best smartphone when the new generation is released?