Great news – virtual network Giffgaff have just announced they are increase their goodybag allowances. So now you get even better value on their rolling deals.
The £15 goodybag has been bumped up from 400 minutes to 500 minutes. And amazingly, the £20 goodybag has leapt up by 800 minutes to a whopping total of 2,000 minutes every month. Even ignoring the unlimited texts and data, that works out at just 1p/minute! Seems hard to do better than that…
To take advantage of this offer and start using the new goodybags, click the banner below.

As usual, we're offering all our readers a sign-up bonus of £5 free credit when they order a new Giffgaff SIM through our link. So that means you can get a free SIM card and once you activate it and get your £5 bonus, you'll have a total of £15. That's enough to buy a goodybag giving you 500 UK minutes, unlimited texts and unlimited internet!
These new allowances mean that you're getting an unparalleled amount for your money if you go for Giffgaff's goodybags. Not bad and just in time for Christmas 🙂 For the full run-down of their current offering, see below: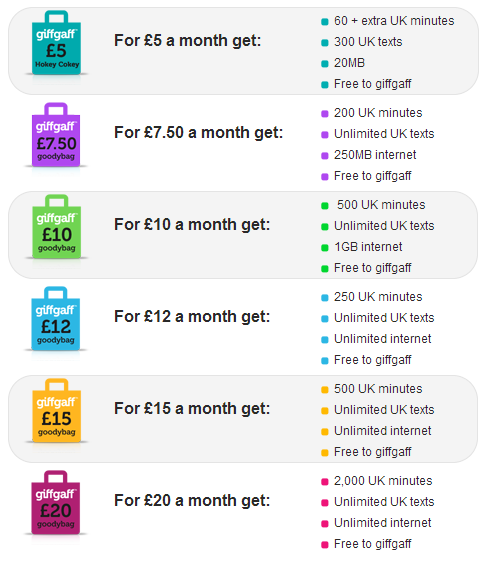 Giffgaff runs on the O2 network with exactly the same signal and speeds. And switching is really easy – you can even keep your mobile number.
We've also seen some great deals on Giffgaff SIMs on eBay. In fact, for less than £7 it seems you can buy a pre-activated SIM with £15 credit already on it ready to use. Unlike other SIMs being sold on eBay, it's claimed that this credit is active and ready to use and there are no limitations or restrictions on what you spend the credit on. So once you buy the SIM, you don't have to pay a penny to start using it.
What do you think of these new monthly bundles? Are there any better offers currently available? And if you have Giffgaff, which goodybag do you use?