Giffgaff is down! We're getting reports that Giffgaff is suffering a partial network outage. It's not yet clear whether O2 and Tesco Mobile are also affected. We'll update from across various sources as the situation progresses.
2G and 3G calls –
Available
2G and 3G texts –
Available
2G and 3G data –
Available
Emergency calls –
Available
Update 18:02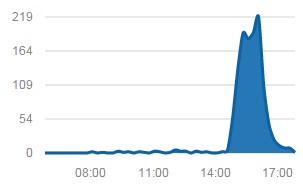 Okay, it's been a while now with nothing new to report so we're going to close down the liveblog. Thanks for following and to all those who contacted us with updates 🙂
Update 17:15
We're going to close down the giffgaff outage liveblog soon as it seems sorted. Comment if you still have issues: http://t.co/fhXTgY4m9v

— Mobile Comparison (@networkcompare) December 3, 2014
Update 17:11
Giffgaff community website seems a bit sluggish at the mo…
Official Update 17:07
@RichardDowling9 And on that note, everything should be back up and running now. http://t.co/lNjEpeUHXC.

— giffgaff (@giffgaff) December 3, 2014
Update 17:06
More and more reports that giffgaff is fixed now coming in.

— Mobile Comparison (@networkcompare) December 3, 2014
Update 17:02
The outage has also been reported elsewhere now.
Update 17:00
It's 5pm now so this has been going on for about two hours. Thankfully we're hearing more and more people getting their mobile data back again but it's still not fixed for everyone. But – without trying to jinx it – the worst might be over now.
Official Update 16:58
Giffgaff have changed the status icons to show that everything is Available again now.
Official Update 16:56
Hi all, thanks for being so patient with us on this while we work through a fix. Quite a few of you are now posting that you can access your data once more, and we're pleased to confirm that this service is now back up and running. The main website should also allow you to view your balances and goodybag allowances as usual. If not, try a simple refresh – sometimes, the wrong page gets cached in your browser and a refresh updates it.

As part of our troubleshooting steps, we blocked access to giffgaff.com from mobile devices, and we're going to be lifting that restriction soon. In addition, some of you may find that transactions that you were doing during the issue take a while to process – for example, activations or topups – we'll be working through these as soon as we can. If you're planning on topping up or activating a SIM, I'd recommend holding off for a short while until we clear that backlog.
Update 16:52
3G appears to be up in most places but not 4G yet.
Official Update 16:41
We're still working on bringing things back up. I know quite a few members have reported their data is working once more but we're not yet in a position to confirm it completely. I'm checking in with the folks.
Official Update 16:34
Hi everyone

Thanks so much for your patience, we understand how frustrating it can be not being able to get signal/data when you need it. Thanks to everyone reporting locations to us, it's really helpful for us to know which areas have been affected by this so the right departments can look into this issue further.

We'll be updating this as soon as we make any progress in getting this resolved so stay tuned.

Thanks again for your patience in this and we apologise for the inconvenience caused by this.
Update 16:32
We're getting reports that data is now back up in some areas. Downtime was approximately two hours.
Update 16:25
We're hearing that not all phones are down. It might depend upon what goodybag you're using. So far, it only seems to be affecting data.
Official Update 16:17
Hi all, sorry for the blip in the community site, we had to restart it to make sure everyone could access it without it slowing down.

We're still investigating the cause of these issues – you may be able to see that out main page is now available in a limited capacity. Once we make further progress I'll make sure to keep you informed.
Update 16:10
Data still down here and nothing new to report from Giffgaff themselves.
Official Update 15:48
Hi all, a quick update for you on this. We have a couple of early ideas of what could be the cause for this based on the behaviour of giffgaff as a whole and we're in touch with the people that provide various different services to make sure we can narrow it down. Once we're certain of the cause of the issue we'll move ahead with steps to address it and I'll make sure you're all aware.

I want to apologise for any issues you're facing – I promise that we'll get it sorted as soon as we're able.
Official Update 15:17
Hi all – we've seen some intermittent issues with the main giffgaff website being unavailable and so to make sure we can get it sorted we've taken the site to our outage server. This means that you won't be able to access My giffgaff or the main site until we get it sorted and bring it back up.

We're also investigating reports of network issues for some members, although others are reporting no issues. Once we know more we'll make sure that we loop you in on that as well.

Keep an eye on this thread for updates as soon as we make progress.
Update 15:24
Yup: definitely an outage. Officially acknowledged now:
@Mallwill Apologies. We're currently investigating similar reports and will update everyone via http://t.co/zGJTwHcFmL soon.

— giffgaff (@giffgaff) December 3, 2014
Update 15:21
Seems that the website has been down for some time too.
@PandoraRaaain currently the website is experiencing a technical issue this will hopefully be resolved asap.

— giffgaff (@giffgaff) December 3, 2014
Update 15:20
Giffgaff seems to be down. Keep checking back here for the latest updates.