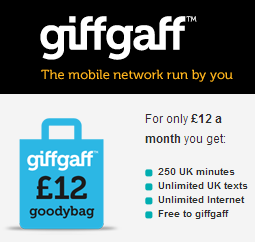 At the beginning of the month, budget mobile network Giffgaff implemented their latest price restructuring. After an in-depth community consultation regarding mobile data usage, they decided to retain their great-value unlimited data tariffs but increase the monthly cost a little. What was previously the £10 goodybag has now gone up to £12 per month and you still get 250 any-network minutes and completely unlimited texts and mobile internet. And that's on top of unlimited Giffgaff-to-Giffgaff calls and texts.
While this might not seem like the best news, Giffgaff have claimed its necessary to ensure the longevity of the unlimited data deals. It may be an extra two quid a month but it's still by far the cheapest deal in the UK for mobile internet.
Also, in our opinion, there's actually a good side to this. Mobile users have long been requesting cheaper tethering-enabled mobile data from Giffgaff ever since they launched their long-awaited Gigabags. Now, Giffgaff have replaced the £10 goodybag with one than allows tethering. So you can finally get a package that includes calls as texts but that also allows you to use the same SIM in a tablet or dongle or even connect it to your laptop or PC. You can even use your Android phone as a portable wifi hotspot.
The new £10 goodybag will come with 1GB of mobile internet with tethering allowed as well as the usual 250 minutes, and unlimited texts. You'll be hard-pressed to find any other UK deal than that. We've had a chance to try out the new goodybags over the last few days and have to say that the data speed on the new goodybags is very good indeed. And the tethering really is a godsend – it feels like a great luxury to be able to use your phone as a wifi hotspot for your laptop, tablet and whatever else when out and about, on a train or wherever.
Don't forget, you can now get Giffgaff SIM cards including £5 extra credit absolutely free. And we're still offering new nano-SIMs for the iPhone 5 and iPad mini – they also have the £5 free credit.
What do you think of this change? Was it for the best or are you annoyed to have to pay more? Have you found any better deals elsewhere? And are you enjoying tethering on Giffgaff?