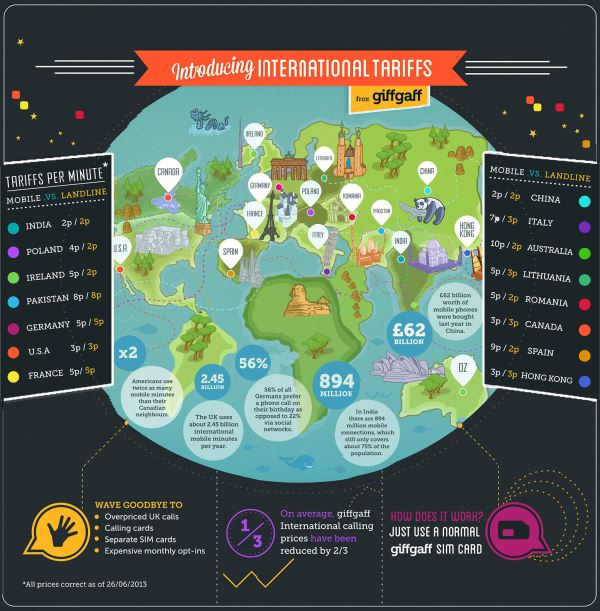 Giffgaff have just cut their international calling prices by an average of over 60%. This move follows hotly on the heels of the recent EU roaming charges price decrease. That meant that the amount you have to pay to use data or send and receive calls and texts when travelling in you at was drastically slashed. Now, these changes at Giffgaff mean that the price it costs you to call abroad when you're at home in the UK has been reduced significantly.
The changes are part of a massive overhaul including over 220 reductions in international calling prices. The cost of sending a text internationally has been cut to HP the matter where in the world you're trying to get in touch with. And, overall, giffgaff claim that the average price reduction across all countries is a massive 66%.
The changes come in a very Giffgaff way, following a user consultation. Since the founding of the company, their ethics have always said that they should be member run and listen to their users. A recent member consultation showed that, on the whole, Giffgaff users thought that international calling could be much more competitive. Even though it wasn't meant to explicitly cover international calling, the April 2013 consultation found it was quite an important item on the agenda for a significant number of giffgaff users. Just a few months later, this is the result.
Some of the calling tariffs that have been slashed include China is now only 2p per minute for a call to a mobile and the same price for called to a landline. India's the same price at just 2p to both mobiles and landlines. Calling halfway round the world to Australia is only 2p for a landline call.
If you have friends and relatives in the United States, it is much cheaper to call them there is the called friends at home in the UK and it's only 3p per minute to both mobiles and landlines. And there are plenty of other low rates, such as 2p per minute to landlines in Poland, Ireland, Spain and Romania and 3p per minute to mobile phone numbers in Hong Kong and Canada.
With its diverse population, the UK handles a huge number of international mobile calls every year. In fact, the total amount is currently estimated at about 2.5 billion international mobile minutes which means there's a huge amount of savings on offer with these new price cuts.
Do you use your mobile to call abroad frequently? Do you know of any other networks offer significantly better rates than giffgaff's new international pricing? And will you be making the most of these price cuts by calling friends and family abroad from your giffgaff mobile?