Rejoice all ye iPhone and iPad users – Giffgaff have finally got round to producing their own micro-SIMs (you Nokia Lumia, HTC One X, Sony Xperia and Motorola Razr fans can let out a little cheer too).
After producing a fantastic infographic showing that the iPhone 4S and iPhone 4 where both in the top 5 handsets used on Giffgaff, they decided it was about time to more proactively lure these users over. Previously, they had hosted a member-project called Microgaff than matched up new customers with existing members who owned SIM cutters. They would order SIM cards in advance, cut them down to micro-SIM size with a cutter and then post them out in lieu of Giffgaff. We even got involved here at Mobile Network Comparison and sent out our own professionally cut micro-SIMs by first class post absolutely free of charge.
Now, however, our top-rated network has produced their very own micro-SIMs. They were announced a few weeks ago but they've just started arriving on doormats today. Fresh after moving to a brand new state-of-the-art warehouse, the guys and girls at Giffgaff HQ and come up with a great new pop-out style of hybrid SIM card. Every SIM will be laser-cut (lasers are always cool) so that you can use it as a regular sized SIM card as usual but if you need a micro-SIM you can just pop it out.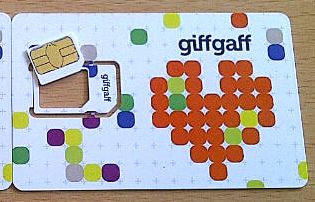 See how it works for yourself:
So there will be no more fiddling with careful cutting and filing, buying expensive SIM cutters or going through third parties. Now you can order a Giffgaff micro-SIM directly and be sure that it will fit perfectly in your phone. So what are you waiting for? Check out more about how much cash you could save and if you're moving to Giffgaff and need a micro-SIM or a regular SIM card, order your free hybrid micro-SIM today. And as an extra promotional bonus, if you order through our site you'll get an extra £5 credit absolutely free 🙂