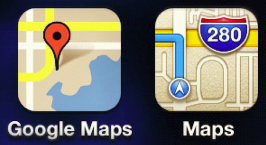 At last! Apple have finally approved the Google Maps app for iOS 6. After what seems like a very long wait, iPhone users can ditch the buggy and dangerous Maps app that Apple forced customers to use. The overwhelming reaction seems to be: about time too.
Although it may feel like ages, it was just three months ago that iOS came out and iPhone users were left seething by the mistakes in Apple's Maps offering. It may have looked stunning and had some cool and interesting features, but there were several major errors in the mapping data. In fact, people even set up blogs to mock some of the worst examples. They also strangely made it so that you need Siri to get voice directions.
It's not such a big deal to have an imperfect launch of a new piece of software. However, what made things so much worse is that Apple made it so that their flawed app replaced the existing Google Maps app. In fact, thanks to their restrictive "walled garden" philosophy on software, iPhone users were completely prevented from reinstalling the Google Maps app that they used previously. Apple simply did not allow it – they gave no choice.
Despite this, the quality of the Apple app was so bad that Tim Cook was forced to issue a public apology and fire many lead developers. Since then, Google has obviously been hard at work on a new version their groundbreaking Maps app. And it just got approval to appear on the Apple App Store.
So what's the new app like? Arguably, it's far superior to Apple's version. Initial reviews are very positive and it seems a large number of users are permanently moving back to it. We found it to operate incredibly smoothly and the public transport directions are incredibly useful. The free voice-guided turn-by-turn navigation feature is also great although it's not quite up to the quality of paid-for competitors like Sygic and TomTom.
Overall, it's the same very-polish Maps app we remember from Google but made much cleaner and clearer visually and with an improved user experience. The maps are all vector-based and there's a great tilted semi-3D perspective. And, of course, the indispensable Street View. It's free (of course) and you can download the app here.
Did you have to use the Apple Maps app? Did you experience any issues with it? And if you're already downloaded the new Google Maps app for iPhone, we'd love to know what you think of it? Will you switch back or stick with Google's offering?