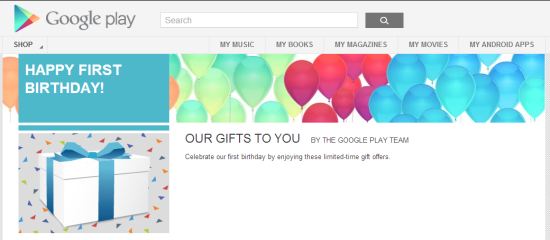 The Google Play store officially replaced the Android Market one year ago and to celebrate this birthday Google has decided to give all Android uses a gift in the form of some special offers and sales. The festivities will last for a whole week and you can get savings and money off on all sort of content. Items that are currently discounted include not only apps and games but also movies, music and magazines. And that's not all. We also spotted some exclusive in-app content that's only available now and cool bonuses such as exclusive in-game characters. You can even get discounts on accomodation.
Some great spots we've found include the pilot episode of the fantastic drama Breaking Bad absolutely free, Donnie Darko for just £4 in HD and 50% off games such as Monopoly and Plants vs Zombies.
But some of the content available is a little underwhelming. At the moment lots of the movies and music on offer are very old releases and there doesn't seem to be very big savings available for new films at all. In fact, a lot of the "deals" aren't discounted at all when compared to other online stores.
With a quick look around, we found DVDs available in supermarkets for the same price as Google's deals. And some of the apps they claim to be giving away were always free.
Having said that, the celebrations have only just started and we don't think Google would want to blow everything right away. Hopefully things will improve over the week and more and more great deals will be revealed. Keep and eye out on Google Play for the latest offers and surprises. After all, for Black Friday 2012 they had some pretty special deals. If you spot anything outstanding over the coming days, please come back and let us know in the comments.
Do you remember when Google Play was first launched a year ago? Do you use it regularly? And what's your opinion of the current sale? Excited or let down? Let us know!