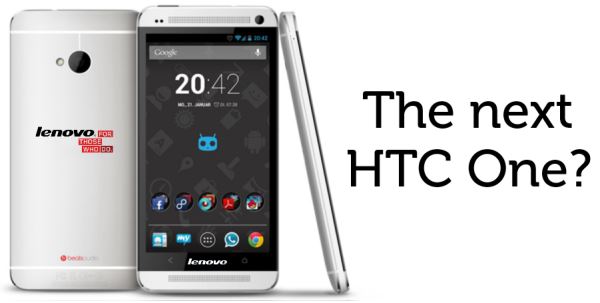 The rumour mill is churning away at a frenetic pace today as rumours abound that Chinese company Lenovo are to take over big-name smart phone manufacturer HTC. Industry insiders and national newspapers in both Korea and China have been reporting that talks about the sale have been ongoing for weeks now and are nearing final stages before a deal can be agreed and completed.
HTC is a Taiwanese organisation headquartered in New Taipei City and has been a familiar name in the mobile phone market for several years now. The company is a founding member of the Android-supporting Open Handset Alliance and they were the manufacturer who produced the first ever Android mobile phone back in October 2008.
However, over the last couple of years, HTC have been having a bit of a struggle. They've been squeezed out of the high-end smartphone market by competitors Apple and Samsung and it's believed that their market share has crashed from a peak of around 25% a couple of years ago to less than 10% today. In the first quarter of 2013, HTC's profit dropped by over 100% in dire news for the company's financial state.
Because of this, it makes sense that they might be looking for buyer despite not openly courting anyone in particular. It is thought that the struggling company's fortunes could be turned around by the cash investments that a high-profile sale would bring.
Lenovo's headquarters are in Beijing and they have annual revenues of almost $30 billion as well as a global workforce of around 30,000 employees. Lenovo would be the perfect choice as their fortunes are on the up and up and they have significant revenues from all branches of their electronics business.
Lenovo are best-known for their ThinkPad brand of laptops but the Chinese company is not yet well-known in Europe for its mobile phones. However, in China they are a massive brand in the world of mobile phones. In fact they have been challenging Samsung as the dominant smartphone manufacturer and and have been investing huge amounts of marketing dollars with this aim in mind. Between 2011 and 2012, they have almost tripled their market share and they are easily the second largest seller of mobile phones by volume in mainland China.
Despite this, they have yet to have much attention in the European and American markets for the mobile phone business. However, we've had our eye on them for some time and have already reviewed two of their handsets that are still only available in the Chinese markets.
In general, Lenovo's Android phones seem to offer incredible value for money compared to what's available in the UK. We feel it is only a matter of time before they expand their business to our shores and we are pretty excited to see how they will shake up the British market.
Lenovo are also no strangers to acquiring struggling brands. In the past they bought the ThinkPad range of notebooks from IBM and by all accounts have done really well with it. HTC may also be a way of getting their foot in the door for an entrance to the European smartphone market.
It would be pretty big news for Lenovo to completely buy out HTC but we're not holding our breath yet. Even if they aren't in talks for a complete sale, it doesn't seem unlikely that some sort of deal or partnership might be on the cards for the future.
HTC have so far denied all rumours that they might be sold, but is still early days yet and that doesn't mean it should be ruled out at all. Any arrangement between the two companies looks from all angles to be mutually beneficial. And HTC might only be denying the rumours now to maintain a high price.
Secretly, we've got our money on some sort of deal being struck between the two Asian companies within the next six months. If it does happen, we are really excited to see what the new venture will bring. And when Lenovo finally do start selling their smart phones in the UK we will, of course, be the first to bring you the latest news and reviews of what will surely be very popular Android handsets.
What you make of this rumour? Is there any substance to it at all? Or do you think nothing will come of it? Do you prefer HTC or Lenovo mobile phones? And how long you think it will be before Lenovo are selling Android smartphones over here in the UK?