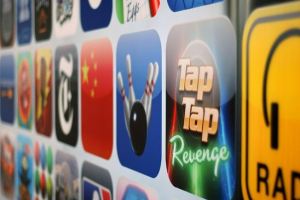 The latest figures seem to indicate that the mobile app market is set to massively increase over the next five years. The projections show that the value of the app market could reach as much as $35 billion by 2017. This huge growth is likely to be predicated upon a continued rise in smartphone uptake and sales.
It is thought that Apple and Google will still dominate the market in 2017 with their iOS and Android platforms. The report, "The Strategy Analytics App Ecosystem Opportunities (AEO) forecast – Mobile Apps Revenue Forecast: 2008 – 2017" was published by Strategy Analytics and predicts that the two companies will control more than 75% of the app market by 2017. This is despite the recent launch of Microsoft's Windows Phone 8 and RIM expecting to launch BlackBerry 10 early next year. We have to agree with the smart money being on Android and iOS remaining dominant – WP8 hasn't made all that much traction yet and RIM is not too far from being in its death throes unless it pulls something really special out of the bag.
However, the main prediction from the Strategy Analytics report is the remarkable claim that the mobile apps market will have increase 35x in a decade from its prototypical stage in 2009 to 2017. Just three years ago the whole market was said to be worth "only" $1 billion but its set to increase to $35 billion. Part of the increase in revenue has been attributed to a move away from paid downloads and to advertising models. In 2009 the vast majority of app-based income was from paid-for premium apps but in 2017 it's thought over 60% of revenue will come from in-app advertising. This change will be driven by further research and investment in this side of mobile applications. We think a big opportunity for companies to wrestle away the bulk of the app market from Apple is to offer more competitive deals over in-app advertising. At the moment, Apple operates some of the most draconian, restrictive and greedy regulations which stifle developers' opportunities to make money from the applications they create for iPhones and iPads.
Do you think these predictions will ring true? Do you often pay for apps or do you prefer free apps with advertising? And do you think RIM or Microsoft will make any significant in-roads to the app market? Let us know below.