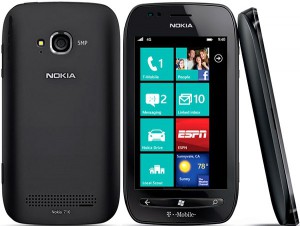 February has arrived, and it has brought the release of the Nokia Lumia 710, which runs Microsoft's lush Windows Phone 7.5 Mango operating system. At first look, it seems like a more affordable version of the Lumia 800 – the 710 is slightly larger, although lighter, and doesn't have the overall sleekness that the Lumia 800 has. The home, back and search touchscreen icons that are placed on the bottom of the Lumia 800 have been replaced with physical button ons the 710.
Although the retail price of the Lumia 710 is £170 less than the Lumia 800, the specifications of the phone are pretty similar. You get a 1.4GHz processor and 512MB RAM with both phones, more than enough to run the new Windows Phone 7.5.
Obviously, with the price being so different, you're going to expect a difference somewhere and sure enough the camera is only 5 megapixels compared to 8 megapixels on the Lumia 800. There's also only 8GB of internal storage, instead of 16 GB and there is no SD card slot if you want to boost your storage space. However, the camera isn't as bad as you would have thought, and pictures are processed without any lag, which is always great.
The new Nokia Lumia 710 also comes with removable back covers which you can switch around to customize your phone, there are a few colours to choose from and no doubt there will be a range of patterned ones to be released this year.
The biggest difference has got to be the screens, although they are both the same size, the Lumia 800 is AMOLED, whereas the 710 is only LCD, the colours are quite flat-looking, and overall it looks less pleasing to the eye than the 800's beautiful screen.
The Lumia 710 was intended to be a middle-priced version of the 800, and it does it's job superbly, if you don't have the money to buy the 800, but want a new Windows Phone, the Lumia 710 may be for you. There are currently some fantastic tariffs available that come with a free Lumia 710:
If you're looking for a slightly more high-end phone than the Lumia 710, there are currently some great deals for the Lumia 800 on 3.