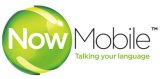 As one if the biggest UK communities for virtual networks, we get a lot of discussion of the latest offerings and tariffs in our comments sections. In fact, our lovely readers have left over 3000 comments over the last few years and we're always happy to hear people's opinions and experiences whether they are good or bad.
However, it's our responsibility to provide a fair and impartial platform for discussing mobile networks. And nowadays, corporations are coming up with cunning and conniving ways to manipulate consumers. One of these is astroturfing which can aim to alter public viewpoints by pretending to be an impartial customer rather than a paid employeed. According to Wikipedia, it's "a practice intended to give the statements or organizations more credibility by withholding information about the source's financial connection".
As a result, we try to keep an eye out for people attacking competitors or praising their own companies under the guise of an anonymous member of the public and without disclosing that they're working on behalf of a corporate political sponsor. We've already managed to publish a detailed exposé of Vectone Mobile who used pseudonyms to promote their own services.
In that case, we managed to track down the comments to their Head of Online Marketing. We even cross-referenced the email address the comments came from with IP addresses used to promote Delight Mobile, a sister company of Vectone. Armed with this conclusive proof, we were able to reveal that this was a common practice at Vectone.
So of course, when we receive glowingly-sycophantic comments, we take a careful look to check nothing is awry. Recently, someone calling themselves "Cameron" left a comment about Now Mobile saying, "You ALL need to check Now PAYG out, their tariffs are so good. They are so transparent too!"
This already seemed a bit unnatural and contrived to us. And then they went on to say "No fair use policy at all – this month so far (they won't be impressed with this)".
Our BS-detector was now beeping like crazy so we dug into the website logs:

What's that, the comment was left by wasim.akhtar@nowpayg.co.uk? Isn't that a domain that's similar to Now Mobile? We decided to visit nowpayg.co.uk – what do you know, it's the Now Mobile website! But that's not evidence in itself – it's very easy to leave a fake email address to mislead people.
What about this name, Wasim Akhtar? Why is that the name of the email address yet the user chose to have the comment appear under the name "Cameron"? What reason would someone have for wanting to conceal their name when writing a positive comment about a company? Well, let's look a bit more at who this Wasim Akhtar could be. A simple Google search brought up the following: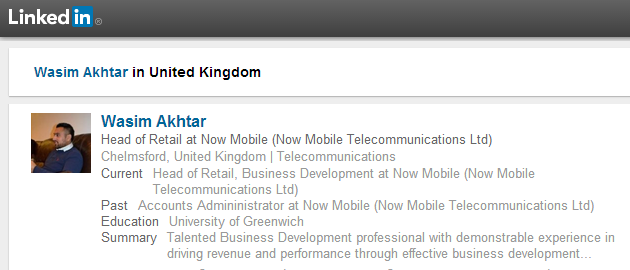 Well, what do you know. It seems someone called Wasim Akhtar works for "Now Mobile Telecommunications Ltd". And he's Head of Retail. What else can we find?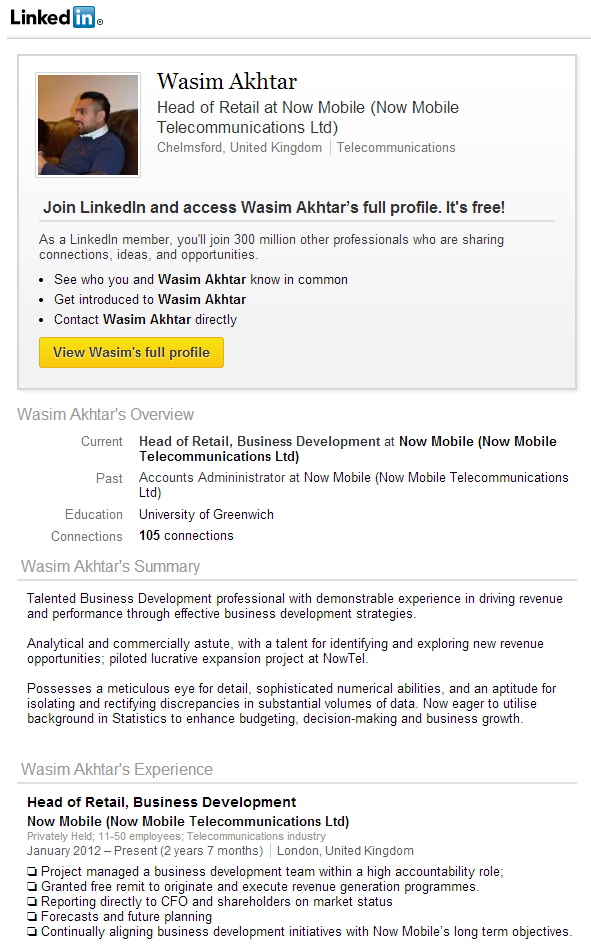 So Wasim has been working there for some years now… But this still isn't enough. Someone could have done all this research themselves and used his name in a type of reserve astroturfing to make Wasim and Now Mobile look bad.
Is there any way we can find out for sure? Well, for a start, the webserver logs give an IP address for the person who left the comment. Let's see what we can dig up with that.
A simple command can query the WHOIS database for the IP address 194.72.102.146. This is the output we got.
mnc

@umami:

~$ 

whois -c GB 194.72.102.146

% The RIPE Database is subject to Terms and Conditions.
% See 

http://www.ripe.net/db/support/db-terms-conditions.pdf



% Note: this output has been filtered.
%       To receive output for a database update, use the 

"-B"

 flag.

% Information related to 

'194.72.102.144 - 194.72.102.159'



% Abuse contact for 

'194.72.102.144 - 194.72.102.159'

 is 

'abuse@bt.com'



inetnum:        194.72.102.144 - 194.72.102.159
netname:        NOWTEL
descr:          FTIP003263549 Nowtel Management Limited
country:        GB
admin-c:        MK12425-RIPE
tech-c:         MK12425-RIPE
status:         ASSIGNED PA
mnt-by:         BTNET-MNT
mnt-lower:      BTNET-MNT
mnt-routes:     BTNET-MNT
remarks:        Please send abuse notification to abuse@bt.net
remarks:        Please send delisting issues to btnetdns@bt.net


source

:         RIPE 

# Filtered



How very interesting! Seems that the comment was left from a computer owned by Nowtel Management Limited? But who is this Nowtel? Well, it's a company based in London. And it turns out it's the parent company of Now Mobile. Nowtel launched Now Mobile in July 2010.
Oh dear, Wasim: Busted!
Astroturfing is bad enough as it conceals your true intentions and aims to mislead and manipulate your customers. At no point in his comment did Wasim reveal his real name publicly nor disclose that he works for the company he was recommending. In fact, he actually did the opposite – by writing "hey won't be impressed with this" he's trying to give the impression that he's in no way affiliated with Now Mobile.
We looked into Nowtel a bit more and found that one of their Core Values is "Be Transparent". They also proudly claim that "Honesty, integrity and openness is at the heart of our business":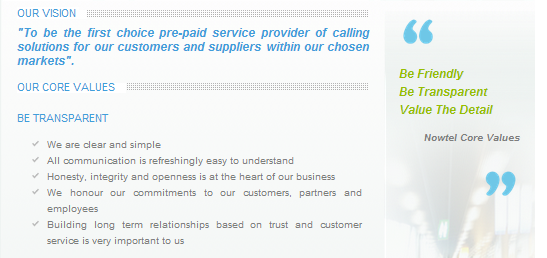 What's your take, readers? Is it "transparent" for Now Mobile employees to pose under different names and publish comments praising their own company while simultaneously pretending to be completely unrelated? Is there any instance when it's not appropriate to fully disclose their employers? And what do you think about Now Mobile now you've read about this?