Orange have released a new set of bundles combining an iPhone and the new iPad. The most basic of packages will cost £65 per month, which includes the new iPad and an iPhone 3GS 8GB free.
Here's the full list of all the different packages available and the upfront cost.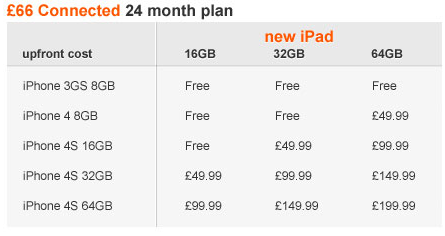 The bundle package includes 600 minutes, unlimited texts, and 2GB of data to use across both devices, as well as BT Openzone access.
On top of the iPhone and iPad combined packages, the new iPad is also available separately on Orange for a 24 month contract. This will only cost you £25 per month. This contract includes 1GB anytime data, and 1GB of data between 12am and 4pm, as well as unlimited access to BT Openzone.
The new iPad with 4G data was launched on 16th March and 3 have already announced a contract deal from £25 a month which includes a huge 15GB, while Vodafone are charging £27 a month for 2GB data. O2 will be announcing data plans, but will not sell the device.