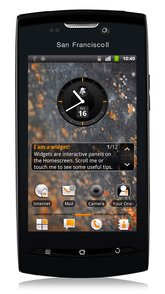 The ZTE Blade, known as the Orange San Francisco was released in the UK on 21 September 2010, and has now sold over 80 million units and is available in over 30 different countries. In early 2011 the phone was reported to have sold more units than the iPhone 4.
So what made this such a good buy? And more importantly, will its sequel, the San Francisco II surpass the ZTE Blade's standards?
Price
The first main point about the original San Francisco was that at only £99, it was a very affordable smartphone. The San Francisco II also offers the same price from the Orange store and comes with a free gift box including a pair of headphones worth £60. In our opinion, this is by far the best value PAYG handset currently available.
Storage
The original San Francisco came with 150MB internal storage, and an external 2GB SD card, with support of up to 32GB – perfect for listening to music and movies on the go. However, when it came to apps, not all applications and games allowed SD storage, meaning downloading a few apps could leave your internal storage full. And even when you could transfer all the data of an app to the SD card without help from other software, it seemed the phone struggled a little to process all that data, especially on ad-supported apps such as Angry Birds.
The San Francisco II offers an internal storage space of 512MB, with this space you can finally install applications without having to worry about running out of space. Not for a while at least anyway…
Battery
The battery life on the San Francisco II is slightly better than the original, offering an extra 24 hours standby time, and around an extra 30 minutes talk time. Not much improvement, but at just £99 you can't expect much more.
Camera
The camera on the ZTE blade was horrendous, even at 3.2 megapixels. It camera had trouble capturing anything in low light, had no flash, and was very shaky when recording, even if you had a steady hand.
The San Francisco II boasts a 5 megapixel camera, with flash and auto focus, a major improvement from the first San Francisco. Hopefully making videos on here will be easier now we can actually see what we're doing…
Software
First of all: the Orange branding. Yuck! I've got to say, the Orange branding on the San Francisco II isn't as intrusive as the original, and still resembles the standard Android layout, with a stock Gingerbread 2.3.5 ROM. But we still feel the look isn't as nice as some Android phones, and once again Orange has had to run their hands over a perfectly good operating system.
Round-up
Probably one of the reasons the first San Francisco sold so well was because it was very easy to customise, loading ROMs, unlocking etc. was very easy and there is lots of support forums all over the internet.
The San Francisco II is not so easy to unlock, unlocking with Orange costs £20, and unlocking for free is rather complicated, although it can be done there are a few mistakes that can be made so it's best to read up what you need to before trying to unlock.
A good buying point for the ZTE Blade was that it was a good starter Android handset, at a budget price. Although the camera is improved, and now has a front facing camera too, if you have previously owned the San Francisco there isn't much else new. The processor is still at 800Mhz even though this should be ample for most usage profiles.
So if you're happy with an Android budget phone using the Orange network, this phone may be for you, but those Android enthusiasts who are into loading ROMs etc. You might not get as much as you did from the original San Francisco just yet.
However, overall there's no denying that this is a significant upgrade in the hardware and the newer version of Android is also a huge bonus. Overall, if you're looking for a budget smartphone on PAYG, you won't do any better than this. In many ways, this is a better handset than much more expensive smartphones and with the power of Android, many will prefer it to the iPhone.
Click here to get the new San Francisco II for the great price of only £99 from Orange today.