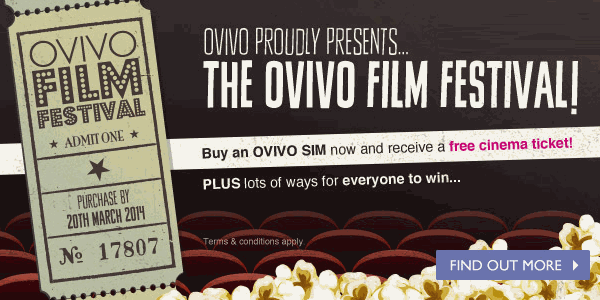 Quick – grab some popcorn! For the next month, OVIVO are offering not only a free mobile phone tariff but also free cinema tickets. Any new customer ordering an OVIVO SIM card will get a free cinema ticket as well.
The offer is running from today until 20 March 2014. Everyone who orders their SIM before then will get a free code for an adult cinema ticket to any UK Cineworld Cinema which is worth £5-£10. You simply need to use this code on a special redemption website and you will be able to make a booking at the Cineworld website for any date within three months.
And if the promise of a free movie isn't enough to tempt you, remember that OVIVO currently are running their best ever offers. Freedom 0 now comes with 250 minutes, 300 texts and 500 mb of data!
Don't forget that you also get £3 bonus credit when you port your number across and OVIVO are the only network in the UK offering non-expiring credit for tablets (great for running a 3G wifi hotspot).
You can use your free cinema ticket at any Cineworld Cinema including West End locations but not at 3D, IMAX, D-Box, Alternative Content, Deluxe, VIP and Premieres. The code has no restrictions but obviously you can't use it for promotions such as Orange Wednesdays or Take2Thursdays.
What's on at the cinema right now that you're keen to catch? And what was the last film you saw? Most importantly, how do you take your popcorn – salty or sweet?