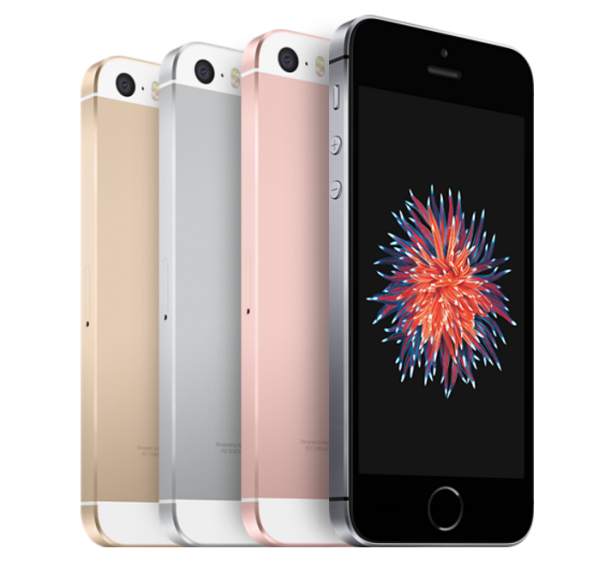 Apple just announced the iPhone SE and is billing it as the most powerful four-inch phone ever. Using the four-inch display and aluminium casing similar to the 2013 iPhone 5S, the company claims it took a "beloved design, then reinvented it from the inside out".
The new phone is very similar to the 5S, but it has the power and performance of the new 6 series which makes for a very attractive overall package. Technical specifications are very similar to the iPhone 6S and 6S Plus with a 64-bit A9 chip and an M9 motion co-processor which should give the same processing and graphics performance found in the flagship models. Photographic specifications are also the same with a 12 megapixel iSight camera capable of capturing 4K video. Live Photos is included in the SE package, which brings your still photos to life with sound and movement.
The new phones all share improved wireless specifications which give faster LTE and Wi-Fi. It is now possible to browse the web, download apps, and games, and stream video over 802.11ac Wi-Fi and LTE at higher speeds than on the iPhone 5S.
Techradar describes the iPhone SE in a review as "a simply brilliant palm-friendly phone". It really is a very good phone, especially if you like a smaller and more manageable phone which sits comfortably in your hand (and even more so if you have a small hand, which can often struggle with the larger smartphones). And of course, the low price makes it the most affordable iPhone in the market.
The iPhone SE is a bold step by Apple to target a market niche ignored by Samsung, LG, and other Android smartphone manufacturers. Apple is offering consumers a premium small screen smartphone with the features and technical specifications found in its top models. The compact Android smartphones, by comparison, are all offered with downgraded features and low specifications. It's a shame that, until now, there hasn't been as much choice.
This might also have been somewhat shortsighted from the Android manufacturers; Apple confirms that the "compact" smartphone market is still very strong, particularly in China. More than thirty million four inch phones were sold by Apple last year which probably accounts for Apple's reasoning behind the production of the iPhone SE. It is a well calculated gamble which we expect to pay large dividends for the company.
With a starting price of just £359, the new iPhone SE should prove to be another winner for Apple. What do you reckon?