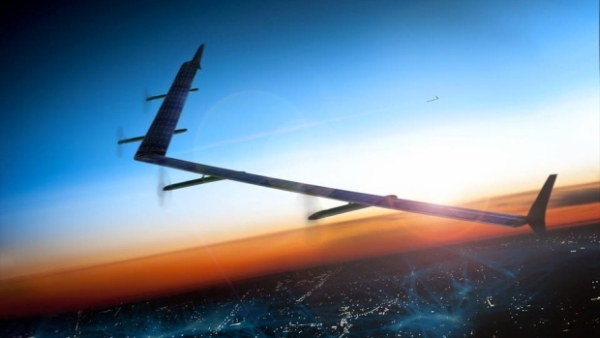 Facebook and Google are competing at high-altitude to connect the world's most remote locations to the Internet. The State of Broadband, produced by the UN Broadband Commission, reveals that 57 per cent of the world's people remain offline and unable to take advantage of the enormous economic and social benefits the internet can offer. The major internet companies are working hard to increase the online population. Facebook is planning to take to the skies with a network of laser-beaming drones while Google is making use of giant balloons which will be circumventing the globe to provide internet links. Google is being very secretive about its own drone project.
The Somerset based Ascenta consultancy, owned by 51-year old engineer Andrew Cox, was recently bought by Facebook for £12m so that they could beam broadband connections from the sky, using satellites, lasers and unmanned high-altitude aircraft designed by Cox. The carbon-fibre framed drone, called Aquila, has a wingspan of a Boeing 737, will operate as high as 90,000 feet in the air, and can stay airborne for 90 days at a time. Facebook's Connectivity Lab has designed a laser which will be used by Aquila to deliver data at more than 10 Gb/s.
"In our effort to connect the whole world with Internet.org, we've been working on ways to beam internet to people from the sky," Zuckerberg wrote on his blog. He went on to say, "Facebook's Connectivity Lab is [building] drones, satellites … and lasers to deliver the internet to everyone."
Facebook's ultimate goal with Connectivity Lab is to create a laser communications system that can be used to connect multiple airborne drones with each other and with the ground, making it possible to create a stratospheric network that can extend to even the remotest regions of the world.
Facebook currently has 1.3 billion users and is connected to a significant proportion of the estimated 3 billion people who use the Internet. Increasing the internet footprint by another 4 billion people could lead to a massive increase in its potential user base.
Are you a regular Facebook user? Have you ever been stuck somewhere remote with a desperate need to get online? And How do you feel about broadband being lasered down to you from drones?