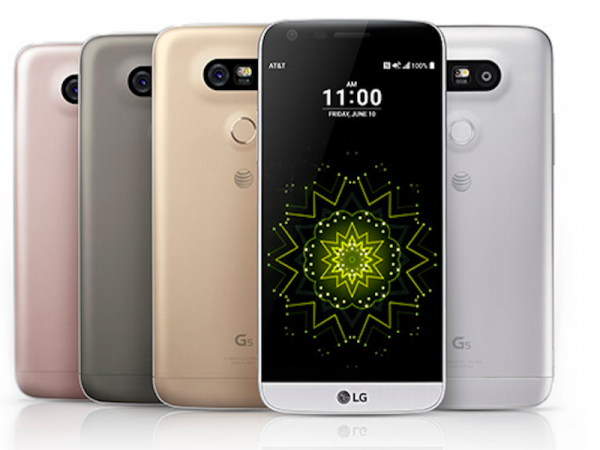 LG's newest release is the first smartphone released this year with some truly innovative features. Instead of concentrating on camera wizardry, or high-performance specifications, LG are offering a new way of looking at the modern smartphone. The new LG G5 allows the user to customise their phone to suit their needs.
Clad in an attractive anodised aluminium case, it is an elegant and classy phone without the cheap looking-plastic bits some manufacturers seem so fond of using in their premium smartphones. The handset is a competitive 159g in a slim 7.7mm package. Screen size is 5.3 inches, which seems to work well without making the phone too bulky to handle easily. It's an excellent compromise between big-screen readability and a manageable size which fits easily into a pocket.
The distinctive feature of this phone is its modular approach, which reveals itself with a pin-line seam that runs across the rear bottom end, of the phone. Push this and the LG G5's expansion module disengages from the rest of the handset so that it can be extracted from the phone, complete with a removable battery. The modular design means that additional camera or music modules can easily be added to the phone to extend its features and customise the phone to meet its owner's needs. The most obvious downside of the modular construction is that the phone is not water or dust proof.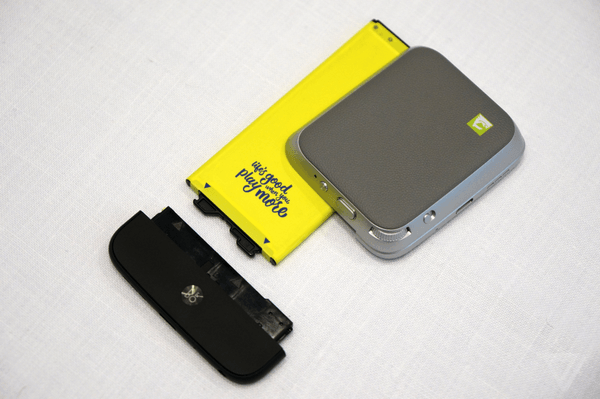 Initially, the phone is being offered with two expansion modules, but others will be launched in the future. The first module is a camera extension called the CAM Plus. This adds a comfortable grip and DSLR-like controls to the phone with dedicated buttons for power, shutter, zoom and movie recording. Significantly it also adds an extra 1,200mAh battery which will increase photographic and recording time.
The second module is focused on people who desire improved audio from their mobile device. It is called the B&O Play module and was jointly developed with high-end audio specialists Bang & Olufsen. This delivers high-resolution audio playback which can be used with the phone or as a standalone DAC attached to your hi-fi or PC.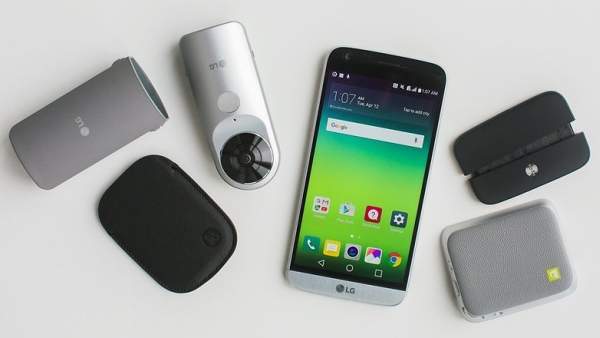 The LG G5's camera is its other innovation. It is a two camera setup with one camera using a standard lens and the other a wide-angle lens. The standard camera has a resolution of 16-megapixel with a 75-degree field of view and a bright f/1.8 aperture, laser autofocus and a three-axis optical image stabilisation for excellent photographs in low light. The secondary camera has a 135-degree wide-angle lens with an eight-megapixel resolution and an aperture of f/2.4. It captures a broad view of a scene giving you the choice of a standard or wide-angle shot every time you take a photograph.
The LG G5 is a very interesting and attractive smartphone with great features. An unlocked G5 is available at the moment from just £460.