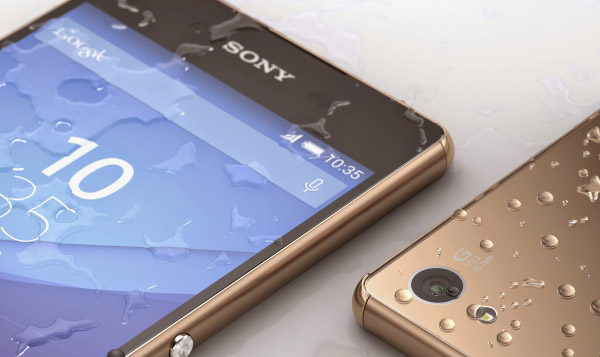 In a recent review of the best smartphones for 2016, as chosen by leading technology critics, the Sony Xperia Z3+ was chosen as the best waterproof smartphone.
It was hardly a surprising choice since Sony has been committed to waterproof phones since the release of the Sony Z in 2013. All their new phones have an IP68 rating meaning that they are both waterproof and dustproof.
The Z3+ is an upgraded version of its predecessor the Z3, with improved specifications, a thinner body and the Android 5.0 Lollipop operating system. It still retains the same 5.2 inch, 1,920 x 1,080 resolution display, but has a slimmer and sharper design at 6.9 mm which makes it the thinnest Sony handset, with the same thickness as the iPhone 6.
The new octa-core Qualcomm Snapdragon 810 processor, clocked at 2 GHz, and backed by the Adreno 430 GPU and 3 GB of RAM, makes for a powerful package with excellent speed. Although not class beating, it certainly competes well with other premier range smartphones. But the processor is also a problem for the Z3+. It is prone to overheat, and at this stage, this means that the phone will often shut down in use when it starts getting to warm. Hopefully, this problem will be addressed in future software releases.
The Xperia Z3+ has 32 GB of onboard storage which can be expanded up to 128 GB via a microSD card. It has all the standard connectivity including 4G LTE support.
One of the features most critics were unanimous in approving was the dedicated camera shutter button. It makes taking photographs easier and the soft press to set focus is a welcome touch. The main camera itself has not changed in this model and is a 20.7 megapixel unit. Image quality, although good, is not exceptional. One feature where Sony stands alone is its commitment to high-quality audio. The Z3+ has unequalled high-res audio.
There are a few problems with the Xperia Z3+ which unfortunately tarnish its otherwise excellent features. The Z3+ is capable of recording video in 4K, but recordings often fail after about 20 seconds due to overheating. The battery is also not good enough for the device. It allows around 3 hours of screen-on time although with lighter use you might be able to eke out power for a day.
The UK version of the Sony Xperia Z3+ is currently available at a 45% discount on the recommended retail price of £549.99. At just £305 SIM-free, it is an exceptionally good phone which is both attractive and durable, as long as Sony can do something about the overheating.