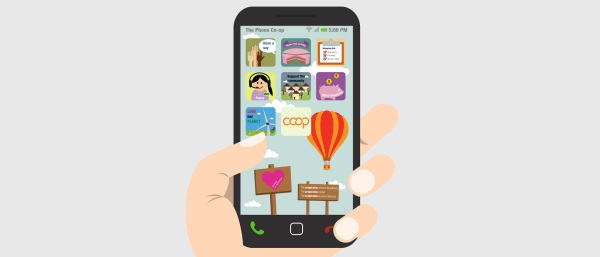 Last time we chatted about Fairphone, solar panels and a Living Wage – what's the discussion going to include this time? Continuing on from part 1, we bring you the rest of our exclusive interview with The Co-operative Mobile:
You're running on EE through Transatel. What is Transatel, how does it work and how did you decide to go with EE?
Transatel is an MVNA or "MVNO enabler". It was awarded "Best MVNA at the MVNO World Congress 2014" in Rome. Transatel have the platform already set up with EE so we are able to launch the service quickly and efficiently.
There are other MVNOs offering better value on their monthly bundles. How can they afford this and why is your offering superior?
We are not convinced that some of the other networks can afford the prices they're offering. For pay monthly, the market expects handset inclusive bundles however handset costs are high if you do not have the volume of the large networks. We actively promote SIM only at the point of purchase so that customers can choose whether they need buy a handset or not and are transparent about the cost of the handset.

Most of our pay monthly sales are from our existing fixed line base and we offer additional benefits including free calls from landline to mobile and calls between customer mobiles don't use up bundle minutes.

Our Pay As You Go offer benefits from per second billing and decent rates with adaptable bundles that our customers can tailor for their own requirements saving themselves money and enabling our customers to make the right choice for their usage patterns.

Members will also benefit from the dividend which last financial year amounted 2.5% of purchases (exclusive of VAT).

Our UK based and award winning customer services are always mentioned as one of our assets as per the posts entered here. An example is posted below.

"Once you are a customer, they are happy to review your account at any time and ensure you are on the cheapest tariff for your usage. I am proud to be a customer and would thoroughly recommend them". Angela Wright, Sheffield 2nd March 2014.
Some good points… What's your target market and what's the uptake been like so far? What are the plans to grow?
Our target market is the "ethically conscious consumer". We were recently ranked "Best Buy" by Ethical Consumer Magazine for mobile, broadband, line rental and e-mail provision, which makes us the choice for this type of consumer concerned with making their money work hard. The ethical share of the retail market is around 5% and sales of ethical products have grown dramatically from £9.6bn in 2009 to £54.4bn in 2012, according to Ethical Consumer Magazine's statistics.

The pay monthly product was introduced in 2010 and was aimed at our existing customer base on fixed line. This product has been steadily growing as our customers take up the service. We have seen great interest in the Fairphone which has been recently launched.

It is early days still for Pay As You Go and we have some plans for more promotion in the Co-operative stores, which is where 85% of our SIM activations have come from. There will be fixed position display racks within most of the 2,800 stores of the Co-operative Group, giving us precedence on the racks which will be branded with our logo. We also expect uplift on our other services through promotion of our home phone & broadband packages on these racks. These display racks are expected to be installed by December of this year.

Another strand to our plan for growth is to provide a 10% credit on each PAYG top up to all holders of an NUS Extra card. This will be run in conjunction with the 10% discount offered by Co-operative Food, which in terms of revenue, is the best performing of the benefits available to NUS Extra cardholders. This ties in with our sponsorship of the "Student for Co-operation" conference and our support for student 'housing co-ops'. There are other plans to draw on the benefits of lower rates for texts and calls between Co-operative Mobiles through "Refer a Friend" schemes.

Historically, our customer base has been predominantly older (45 and above). According to a survey conducted on our behalf by Deloitte in 2013 as part of their social innovation pioneers programme, these people have been attracted to us and retained by us due to our customer service excellence. Younger customers are attracted more by product range. We are working hard to improve this aspect of our service as explained earlier, working to bring 4G and to increase data allowances on our mobile network.
Thanks for chatting to us! For our final question, was there a specific point when you realised the network would definitely be a success or has this not come yet?
The pay monthly service has shown steady growth from the beginning so we have always had confidence in it being a viable product. We believe that with the launch of the new display stands in-store, together with NUS Extra and other initiatives that our PAYG service will become profitable and add to our portfolio of successful services Early in the New Year.