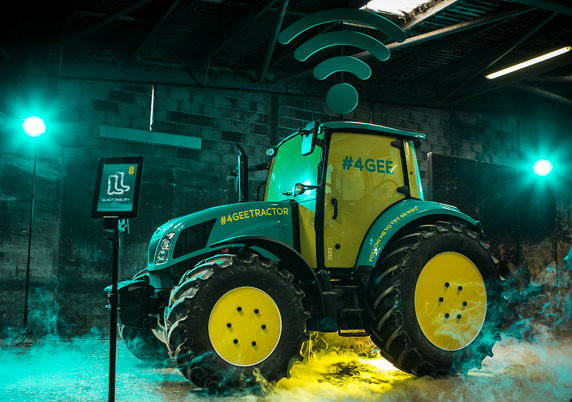 Glastonbury, the world's largest greenfield festival, will be the first to offer dedicated on-site 4G wireless data. With a capacity of about 200,000 people and a location miles away from the nearest major city, mobile internet access often slows to a crawl at Glasto. Usually there are only about 9,000 people in the village and not that many of them have 4G phones!
As a result, many large festivals like Glasto and other public events often bring extra cell towers to cope with the demand, but this year Michael Eavis is trying something different.
In a bit of a media, gimmick, EE is sponsoring a specially-modified vehicle that will drive around the festival site offering wifi access through a EE 4G connection. You won't need to be an EE customer, just to have a wifi-enabled mobile device to take advantage of the free service. The 4G router will drive around the massive festival site beaming out its high-speed internet access.
There won't be any issues with the wifi access point getting stuck in the infamous Glastonbury mud as it will be fitted onto a special pimped-out New Holland farm tractor capable of the worst that even Glasto has to offer. And festival-goers will be able to keep up to date with its location by following the EE Twitter feed.
Don't think that thousands of stinky hippies will be chasing after the tractor though desperate to update their Facebook status – there will also be the usual "recharge" tents at the festival offering free power and internet access over the weekend.
This year the nine hundred acre Worthy Farm in the South West of England will play host to hundreds of international artists from all over the world and the gates open to those lucky enough to have grabbed a ticket today.
As ever, all eyes will be on the weather forecast over the coming days. Music-wise, the main headliners on the Pyramid stage will be The Rolling Stones, Mumford & Sons and (sigh) Arctic Monkeys.
However, smarter punters know better and will be cramming in one of the smaller areas to see better-respected acts such as Fuck Buttons, Eat Static and Gold Panda or up-and-coming bands including Jagwa-Ma and Suuns. And of course, the festival site becomes a huge city of art, performance, activism and fun with plenty else to see and do.
To help you keep track of everything you want to see, EE have also sponsored the offical Glastonbury 2013 smartphone app available for Android and iPhone. It even caters for those who are staying at home over the weekend as it has live streams of the BBC coverage of the festival's main stages.
Are you going to Glasto this year? And if so, are you bringing a smartphone or are you deciding not to risk it and preferring to leaving it at home? Will you download the app and do you think anyone will bother to seek out the 4G tractor? Let us know!