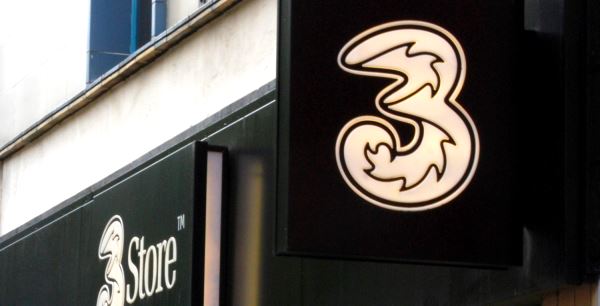 Fast-growing mobile phone operator Three Mobile is now arguing in favour of consolidation of Britain's main mobile networks. In a statement David Dyson – the CEO of the network – suggested that the number of operators could fall from four to three.
This marks quite a rapid turnaround as previously, Three have been adamant that consolidation should not happen in the UK market. They are the smallest of the main mobile networks with only 10% of the market from their 8 million customers but rapidly growing and have hefty financial backing from Hong Kong-based conglomerate Hutchison Whampoa.
The most obvious benefit from reducing the number of operators running mobile networks in Britain is that it would drastically cut down the amount of superfluous infrastructure required to cover the UK population. With fewer mobile networks having to provide expensive cell towers and data backbones, unnecessary redundancy can be reduced. It would also mean that each of the remaining networks would have a greater market share and therefore greater revenues to invest in improving their networks.
Despite this, in 2010 Three strongly oppose the merger of the Orange and T-Mobile networks to form the first 4G super network, Everything Everywhere (later to be renamed EE). This produced a massive new entity with a dominating amount of market share and Three were understandably against it.
This was likely because Three has always been the new upstart in the UK market and, indeed, they had to apply for special protection from the regulator Ofcom in order to ensure that it was not outbid by its bigger rivals in the recent 4G spectrum auction.
All mobile network operators are struggling with reduced revenues in light of the general shift to internet protocol-based communication rather than standard voice calls and text messages. Traditionally, SMS was especially lucrative for mobile networks as they made unfathomable profit margins on each text sent. However, nowadays platform such as WhatsApp, Google Hangouts and Facebook are largely usurping text messages on people's mobile phones.
Three is now arguing that 2014 will be the year of consolidation across the European markets. And they are backed up by research analysts' reports that there will soon be a wave of mega-mergers of various mobile phone networks in Europe. In fact, a very strong prediction is that Three would acquire O2. Just how much weight we should put on this prediction is another matter entirely as the director of the main insight firm suggesting this will happen has a less-than-stellar track record in his predictions.
O2 is thought to be up for grabs because its parent company has racked up a huge amount of debt which it desperately needs to take a chunk out of. it is drowning in owing of about €50 billion(!) so selling its UK network to Three would be very helpful in achieving this goal. We would also be happy with this deal as it would entrench its position and make it one of the biggest operators in Europe as it already has a strong presence in Austria and several other countries.
With this knowledge, it is only right to be sceptical of Three's about turn. Hutchison Whampoa has already bought out out O2 in Ireland and is looking to merge the networks. And it would ostensibly appear that their rapid change of tack merely has been inspired by self-interest.
Indeed, it is easy to argue that a reduction of the number of mobile networks in the UK and have a vast the negative effects on the markets. By edging closer to a monopoly and by putting more power into the remaining mobile networks, customers would surely suffer. It's hard to see how reducing the competition would do anything but make the worst deals for consumers an easy way the new mega-networks to force through price rises. Having said that, it would also mean that we'd see fewer adverts like this in the future.
What you think of this news? Do you think it's a good idea for Three Mobile to buy out O2? Do you trust David Dyson's reasoning why your little bit sceptical? And how lucky you think this is can happen in 2014?