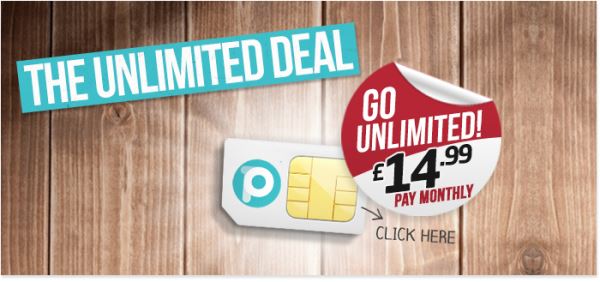 Ever wish you could save loads of money with a better mobile deal and make a difference at the same time? With The People's Operator, UK mobile users can do just that and there's no better time to get involved that now as they have just launched their new "Unlimited Deal". Could this be the best offer currently on the market? In what must be a UK first, they are currently offering completely unlimited calls, texts and data – unlimited everything for just £14.99/month.
TPO have turned talking into a force for good by building a network that's hardwired to support charity causes, converting its calls, text and data into donations – at no cost to its customers. They direct 10% of your monthly mobile bill to a cause or charity of your choice. It costs you nothing extra and is a great way to do your bit. Add to that the massive value of the Unlimited Deal and a responsible approach to running their business and you've got a new kind of mobile offer to be reckoned with.
How do they manage to do this without taking extra from your bank balance? They promise to match their fundraising ambitions with customer value and, like Giffgaff, they do this by cutting back on unnecessary overheads and flashy advertising. So while you won't find them yelling at you from giant billboards or assaulting you on the high-street dressed as massive rubber phones, you will find their deals are better than the big guys. Which means you get better value on your minutes, messages and megabytes and also make it really easy to help the charity you care about the most.
At the moment, TPO are offering both a PAYG tariff as well as a monthly SIM-only rolling contract. But it's their brand new Unlimited Everything 30 day rolling contract that has caught our attention. It's a great new package – offering unlimited Talk, Text and Data for just £14.99. Plus while you're chatting away, you can choose to support a good cause for free – if you have a charity you'd like to help, TPO will give 10p to a cause of your choice for every £1 you spend at no cost to you. There is a fair usage policy but it's incredibly generous for the money and, with the fantastic low price of £14.99 and the added bonus of helping good causes for free, it's ridiculously tempting.
TPO say that good business isn't about making gestures, it's about having a positive impact. That's why they've built their network from the bottom up to do business right. Their customers come before shareholders and – as well as pledging 10% for customer who want to do their bit – they're also committed to sharing a quarter of their profits every year with worthwhile causes through the TPO Foundation.
If your existing network is letting you down, or you simply want a change, switching over to the network is very easy indeed and you can keep your existing phone number. TPO also runs on EE, the UK's largest 3G network, so you get excellent coverage across the country.
So, if you're interested making the leap over to The People's Operator and "turning your calls into kindness" why not grab their Unlimited Everything Package today while it's still available (the offer ends on 5 November).