Nowadays, every phone seems overly complicated and exorbitantly overpriced. Sometimes fancy touchscreen smartphones are unnecessary, over-expensive, and just more trouble to use as a phone than what should be expected. Many of you long for the days of a simple mobile phone which was straightforward and had normal buttons – all it did was do calls and texts (and the odd sneaky game of Snake).
However, the truth is, if you're looking for a handset just for texting and calling family and friends, you don't need to feel like you should dig deep into your pockets to pay out for an expensive contract, because there are plenty of perfect phones out there that cost less than the cost of one month on a smartphone contract. Here are our top 5 favourite cheap and simple mobile phones:
Only £4.95 on PAYG | FREE on contract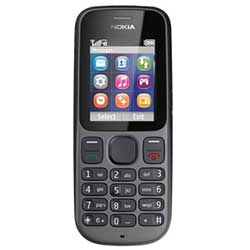 The Nokia 100 has a 1.8 inch colour display with an FM radio, notes, calendar, and a calculator application. You can also store up to 500 contacts onto the phone for calling and texting. The Nokia 100 is a typical bar phone so you'll be able to quickly dial numbers with the standard number pad, but texting may be a little slow for those used to a full QWERTY keypad.
The cheapest option for this phone would be to get it for £4.95 on Vodafone or Virgin Mobile with a £10 top-up included. There are also options to get it on contract for free with prices as low as £10.50 per month including a decent amount of calls and texts on Orange or O2.
| | |
| --- | --- |
| Price | |
| Functionality | |
| Ease of use | |
| Build quality | |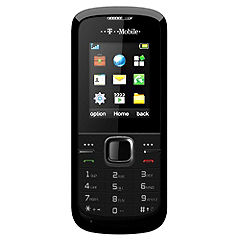 With an audio player, a few simple games, and a VGA camera, the T-Mobile Zest II is a small step up from the Nokia 100. However, the Zest II also comes with a few other handy features such as Bluetooth, a hands free kit and predictive texting. The screen is sharp and easy to read for the size. The buttons are a little small, but it's also 2mm thinner than the Nokia 100, making this a slimmer, better-featured alternative.
But you can bag yourself this great phone for dirt cheap and even get change from a tenner. Not bad at all for a phone with these features.
| | |
| --- | --- |
| Price | |
| Functionality | |
| Ease of use | |
| Build quality | |

Only £9.95 on PAYG | FREE on contract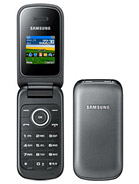 The Samsung E1190 is a lightweight flip phone with a few games, an MP3 ringtone picker, and enough storage space for 500 SMS messages and 1,000 phone contacts. The phone also has a speaker-phone for louder calls which are handy when you need to put the phone down or you are in the car. We also really love the handy torch feature. Best of all, the interface is really straightforward to use and everything is laid out sensible.
When we're considering cheap phones, the E1190 may seem like it would be a little on the expensive side, but you can get the mobile free for a decent £10.50 a month on contract or just £9.95 on PAYG.
| | |
| --- | --- |
| Price | |
| Functionality | |
| Ease of use | |
| Build quality | |

Only £4.95 on PAYG | FREE on contract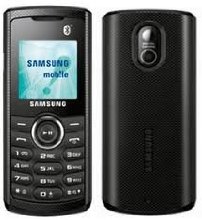 The Samsung E2121 is a more high-end bar phone with a very reasonable price for the amount of upgrades. With the Samsung E2121 you'll be able to send and receive content via Bluetooth, send photos via MMS, and access GPRS or EDGE internet via the internet browser. There's also a camera for taking photos and videos, an FM radio, and even a 2GB micro SD slot for storing images and music files.
You can get the phone for just £4.95, which is incredibly cheap considering the features of the phone. If you like the look of the phone, this device is a sure buy for those on a low budget. The cheapest option would be to go for the PAYG price (with a £10 top-up) from the Carphone warehouse, although you may be just as happy with a contract for £10.50 a month to get some included minutes and texts.
| | |
| --- | --- |
| Price | |
| Functionality | |
| Ease of use | |
| Build quality | |

Only £69.99 on PAYG | FREE on contract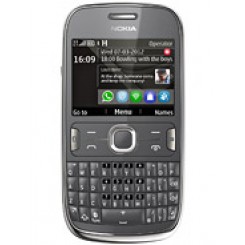 The Nokia Asha 302 costs quite a bit more than the other budget phones in this Top 5, but for a cheap contract price, you can get the handset for free. It's similar in features and look to a classier BlackBerry and we think that the feature-set is really fantastic for a phone at this price.
The Nokia Asha 302 is the only handset on the list with a full QWERTY keyboard and offers internet browsing, quick messaging, flash, java, and other multimedia functionality. There is a decent 3.5G connection which will allow you to make use of all the internet features such as the IM apps like Google Talk and Windows Live Messenger. Alternatively, you can even do all this and browse the web and check emails using using Wi-Fi. The device also comes with a decent camera and a slot for a 32GB micro SD card to store all your photos.
This phone is head and shoulders above the rest on features but is still very easy to use and good value for money on PAYG. The 302 is a bit on the expensive side, but if you're going to be doing a lot of texting or calling then the Asha 302 definitely deserves a spot on the list, because you can get it free on contract. If the included allowances cover your mobile usage, then the price will end up as low as buying a cheaper PAYG handset and buying credit.
| | |
| --- | --- |
| Price | |
| Functionality | |
| Ease of use | |
| Build quality | |