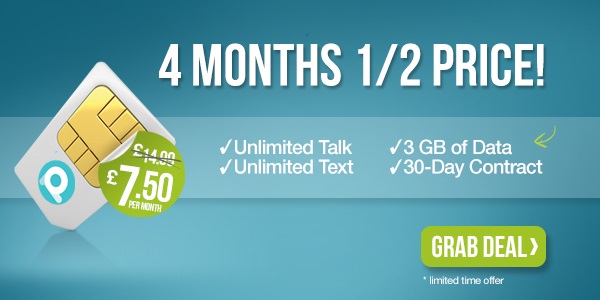 Want to give a little back whilst at the same time saving money on your phone contract? The People's Operator is the phone network that gives back, with 10% of your spend going to a charity or cause of your choice at no extra cost to you. For this week only they are offering customers Four Months Half Price on The UK's Best Deal. This means unlimited calls and texts as well as 3GB of data for only £7.50 a month on a rolling 30-day contract.
We've previously interviewed CEO Alex Franks to get a better feel of the ideas behind The People's Operator. We also looked at some of the deals TPO have offered including a game-changing unlimited everything offer last year. This is not quite as interesting but it's also a lot more affordable so will appeal to different budgets. And as well as being fantastic value, they are the only provider that enables you to give 10% back to causes.
This SIM-only deal is available until midnight on Sunday 15th June when you use the promotional code TPODEAL before check out. The way it works is you pay the usual price of £14.99 for your first month and they'll give you months two, three, four and five at just £7.50 each.
If your existing network is letting you down, or you simply want a change, switching over to the network is very easy indeed and you can keep your existing phone number. TPO also runs on EE, the UK's largest 3G network, so you get excellent coverage across the country.
If you're interested making the leap over to The People's Operator let us know your reasoning. And click the links above to start "turning your calls into kindness" while the deal is still available.