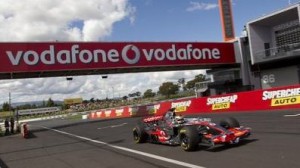 Travelling around London on the Underground last week, a new advert from Vodafone really caught our eye. It offered unlimited data for the first three months of your contract to let you judge your normal usage before choosing which data tariff you want to go for.
You can see a similar in-store advert for yourself thanks to Mobile Industry Review. We love to see clever but simple thinking like this – it's such a graceful and obvious solution to a common problem but so many of the major networks don't want to make the effort to help their customers like this. Or, as Vodafone put it:
"Vodafone's Data Test Drive is designed to give customers the confidence to experiment with their new phone on the UK's best network, get to grips with its features and explore all the apps that are available for it"
The deal is currently not available on PAYG, just on new Vodafone contracts. For example you can buy the brand new Nokia Lumia 800 for just £36/month and this comes with 900 minutes, unlimited texts, 750MB data and, if you order fast, Vodafone will give you a £10 voucher each month for 6 month. But best of all, you get to qualify for the Data Test Drive for the first 3 months giving you unlimited data to measure your usage.
You have to have a smartphone to be able to try the Data Test Drive. However, it's a great way of being better informed so you don't waste money on a data allowance you don't need or on expensive overage charges. On Vodafone going over by just 300MB a month can cost you an extra £120 a year so it's great to be able to test things out before committing to a lengthy contract.
Of course, there are alternatives. Firstly, we'd urge you to look at Giffgaff instead. Not only do they offer by far the cheapest unlimited data offer at just £10/month, they also are a PAYG network so you're not tied in for up to 24 months. You can change whenever you want and even their 20p/day data without a goodybag is fantastic value.
3 are another network with a great unlimited data offer on The One Plan. This comes with a massive 5000 3-to-3 minuts, 2000 any network minutes and 5000 texts – an allowance so huge you're almost certain not to need to pay more than your £25/month fee. And, best of all, these offers from Giffgaff and 3 provide truly unlimited data unlike Vodafone who, like most networks, have hidden fair use restrictions. What's more, they offer unlimited data for as long as you want, not just the first three months, negating the need to even test out your usage as you won't ever have a limit.
Still, the 3 and Giffgaff plans aren't for everyone and, if you're planning on taking out a new Vodafone contract, the Test Drive offer might be exactly what you need to save money on your new tariff.