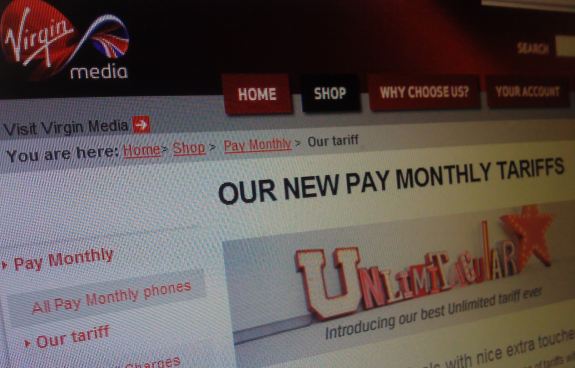 Virtual network Virgin Mobile has come clean about its slow mobile internet speeds. A Virgin staff member called "Krystal_E" has posted an an official statement on the community forums confirming that they are heavily throttling the mobile data connection.
It is claimed that the speed cap is just a "trial" but it affects all customers whether they are on contract plans or PAYG and there is no ending date. Despite numerous denials about deliberately slowing down internet speeds, the throttling has and has been in place since February.
Virgin are arguing that they are throttling internet access to ensure they can "offer a good level of service to all customers". But in their admission, they revealed that the current cap is set at 2 Mb/second down and just 0.5 Mb/second up. Now many users are complaining they can't stream videos without constant buffering.
There is some argument for putting a speed cap on mobile data in order to guarantee service for all customers and prevent a small minority from hogging all the bandwidth. However, 2 Mb/second is far too slow and severely limits what you can do with your mobile.
And in any case, to play devil's advocate, surely it's the mobile company's responsibility to ensure they have adequate infrastructure available to meet people's needs? Why sell so many SIM cards if you can't provide a decent service for all your customers? This is especially true for Virgin Mobile as they run on EE's network and they should have plenty of spare 3G capacity.
Virgin Mobile is also being somewhat dishonest as they recently introduced "unlimited" data plans. However, by putting in a speed cap, they are necessarily introducing an artificial hard limit to the amount of data you can download. You wouldn't have to be a massive cynic to think that maybe they underestimated how much people would take advantage of the unlimited tariffs and are introducing this change to try and limit people after all.
Virgin Mobile users are doubly annoyed as there have already been many changes this year making the mobile data provision worse. There were changes to the fair usage policy limiting monthly usage as well as a ban on tethering back in January. The latest news that they are throttling users' data access to such a low limit is sure to annoy people.
Indeed, the Virgin Mobile community forums are now replete with outraged customers threatening to move to other networks that don't cap their mobile data. Questions also have to be asked why it took so long for Virgin to own up to this change? Are they not in the habit of being transparent with their customers?
Some of the furious quotations from customers include "they deserve to be taken to the cleaners on this one", "I'd personally report Virgin to the ASA" and "I signed up here specifically to state that I'll be requesting my PAC at the end of this month". Probably our absolute favourite is as follows:
Joined Virgin on 1GB package on the 16th Feb and left today for Tesco because of all this nonsense … Bye bye Virgin. It's been a short and messy three weeks. Like a holiday romance with a pretty girl that turned out to be bipolar.
In response, Virgin has claimed that they will never reduce the cap any further. But that's unlikely to placate their customers most of whom realise that Virgin Mobile hardly make any money on data as opposed to voice calls and suspect that the network is merely trying to reduce its outgoings at their expense.
And the problems don't stop there. Virgin's customers are also reporting that the cap is implemented poorly so you get sudden bursts of data followed by almost nothing. While it averages out to about 2 Mbit/s overall, it doesn't make for useful internet access. We'll be monitoring the situation closely to see if anything changes. In the meantime, you might want to think about changing to another network that offers a better unlimited data service.
Are you on Virgin Mobile? Did you notice the cap already? What do you think about this decision? And will you be staying with them or jumping ship?