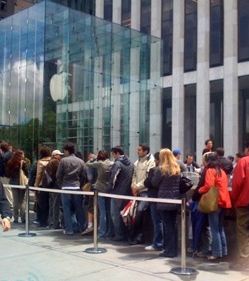 So were you impressed by the announcement of Apple's new iPhone 5? Are you counting down the days to the release on 21 September. If nothing will stop you upgrading as soon as possible, you're probably looking into how to pre-order the new handset already. Across all the UK networks pre-orders have already started but due to some Ofcom-related complications regarding 4G LTE radio frequency bands, things are a little complex this time round. Hope you're ready to get in line…
As Orange and T-Mobile will have a monopoly on 4G connectivity across all phones in the UK for about a year, you'd be wise to take this into account if you're planning on switching networks or taking out a new contract for the iPhone 5. It's also worth noting that the iPhone specs that Apple announced on Wednesday don't include pentaband connectivity so it's unclear whether the 4G connection will ever work with other networks in the UK. Quite why Apple did this is unclear but if 4G is a must-have for you, it's probably safest to order an iPhone 5 on an Everything Everywhere network (Orange or T-Mobile). But if you just want an iPhone 5 and the best price available, read on for our full round-up of UK deals.

Orange are offering four options for pre-ordering the iPhone 5
. You can get it in both black and white and in the three sizes – 16GB, 32GB and 64GB. All plans come with unlimited UK calls and texts so the only other thing you have to decide is how much data you want. Prices range from £36/month for 1GB of mobile data per month to £51/month for unlimited data. All plans are 24 month contracts. The cost of the handset itself is as follows:
| | 16GB | 32GB | 64GB |
| --- | --- | --- | --- |
| £36/month – 1GB data | £109.99 | £219.99 | £269.99 |
| £41/month – 2GB data | £29.99 | £139.99 | £209.99 |
| £46/month – 3GB data | free | £89.99 | £179.99 |
| £51/month – unlimited data | free | £39.99 | £129.99 |

T-Mobile are, of course, offering the iPhone 5 in all specifications too
. Not only that, but they also have a baffling array of possible tariffs to fit any usage profile. Unlike Orange, they also offer 18 month contracts in addition to 24 month contracts which is great if you don't like being locked in for two years. And, while their prices might not seem as competitive as Orange's, if you run the calculations you'll see that you'll actually be spending less money for the same thing in many cases. And don't forget that they have
exactly the same signal as Orange
and will both launch with 4G capability. Make sure you crunch the numbers before you make a commitment – as is often the case you can safe a packet by spending a little more up front. Here's a list of some of the best tariffs available on T-Mobile:
16GB
32GB
64GB
£21/month
50 mins, 250 texts, 750MB data
£339
£419
£449
£31/month
300 mins, unlimited texts, 750MB data
£179
£269
£369
£36/month
2000 mins, unlimited texts and data
£109
£219
£269
£41/month
unlimited mins, texts and data
£49
£149
£219

Three only have two price plans available for each model of iPhone 5 – the Ultimate Internet 500 and the amazing One Plan. Both come with completely unlimited all-you-can-eat mobile internet and practically-limitless texts (you have 5000 a month which should be enough for even the most SMS-addicted users). The main difference is that the Ultimate Internet 500 tariff "only" has 500 any-network minutes while the One Plan has a mammoth 2000 any network minutes plus an additional 5000 3-to-3 minutes. Best of all it's only a couple of quid more. As usual, Three Mobile is offering amongst the most competitive prices on the new iPhone 5. In fact, over the course of a 2 year contract,
you can hundreds by choosing Three over some of the other networks
. Here's the full pricing lowdown:
16GB
32GB
64GB
500 mins, 5000 texts, unlimited data
£34/month
£79 upfront
£37/month
£89 upfront
£40/month
£109 upfront
2000 mins, 5000 texts, unlimited data
£36/month
£79 upfront
£39/month
£89 upfront
£42/month
£109 upfront

Vodafone are the only UK network to offer
the new iPhone 5
on 12 month contracts. But, as with everyone else, the longer 24 month contracts are where the real value lies. Compared to Orange and T-Mobile, their plans are really competitive and they even match up rather well with Three. All the tariffs listed in the table below come with unlimited UK calls and texts and only the amount of internet varies. With the 16GB iPhone 5 starting at just £37/month with a £99 upfront cost, it's a great value option to consider. Here's all the price plans:
| | 16GB | 32GB | 64GB |
| --- | --- | --- | --- |
| £37/month – 1GB data | £99 | £209 | £289 |
| £42/month – 2GB data | £49 | £149 | £229 |
| £47/month – 2GB data | free | £89 | £169 |

Unfortunately, at the time of going to press O
2
have yet to confirm their iPhone tariffs. All we know is that they will only offer 24 month price plans and, as usual, their data allowance is very measly indeed. In fact, if you choose O
2
as your network for your iPhone 5, the biggest monthly data allowance you can buy is a measly 1GB. This pittance can even set you back up to £46/month plus an unspecified upfront cost. Maybe O
2
will surprise us with cheap rates for the phone itself and it must be admitted that all their tariffs come with unlimited minutes and texts but you'll almost certainly be limited by the tiny amount of included data. You can
register for more info now
and please keep checking back or subscribe to the blog for update about the O
2
price plans.