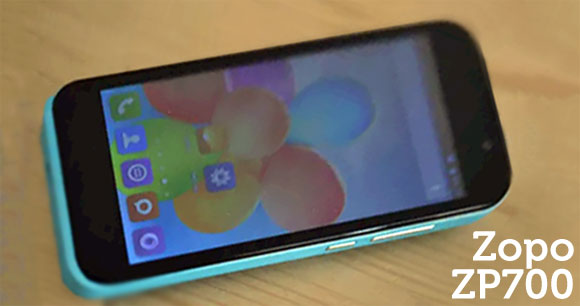 Up-and-coming Chinese mobile phone manufacturer Zopo have just dropped a bombshell – in just a few days time, they're about to launch the world's first true octa-core mobile phone. The new handset is going to be called the Zopo ZP700 and the official launch date will be 21 November.
Zopo are a relatively new mobile phone manufacturer and are currently pretty much unknown outside of China – after all, they have only been around for less than a year now and they are only marketing themselves in East Asia. However, they are already starting to make a name for themselves in the Chinese market and are already one of the most popular brands in the region.
Zopo also caught the eye of us with their recently-released and very impressive Zopo ZP980 Android smartphone which got out highest-so-far handset score in our comprehensive video review last month.
The newly-announced ZP700 model will be a significant step up from the ZP980. Like almost all Chinese Android smartphones, it will be based on a chipset from Taiwanese company MediaTek – the MT6592. This is the world's first true octa-core system on a chip and will be able to leverage increased parallelisation in order to provide greater power efficiency and blazingly-fast processing speeds.
Existing smartphones on the market with octa-core CPUs can actually only activate half of their cores at once. In comparison, the MediaTek True Octa-Core allows for all eight of its cores to run simultaneously. In combination with the new 28nm die size, this will offer the ultimate combination of performance and power-efficiency.
The exact clock speed of the ZP700's processor has not yet been announced, but we can't wait to see the performance of this new chipset. We do know that the chipset is capable of running between about 1.7GHz and 2GHz per core – pretty impressive speeds we're sure you'll agree.
Not only will it come with that beastly eight-core CPU, but the new ZP700 phone will come with a complete set of technical specifications to die for. The latest rumours are suggesting that the device will have a screen larger than 5 inches with a 1080p full-HD resolution. The chipset will also likely boast ramped-up graphical capabilities as we have exclusive information that the graphics chip will be upgraded from the PowerVR SGX544MP to a much more powerful ARM Mali-450 MP GPU. Certainly great news for all you gamers out there 🙂
The other specs that we expect to see on the new phone will be a full 2GB of RAM and 32GB ROM as the internal SD card. Of course, it'll have dual cameras including a stunning 13 megapixel main camera and, of course, dual-SIM capability. We also are hoping for an even higher-capacity battery to keep the phone running for days and days.
As for the design and form factor for the ZP700, it looks like Zopo will be aiming to take a leaf out of Apple's book. The handset has a very iPhone 5C-type feel to it with a colourful pastel-shaded battery cover and a stylish and unobtrusive look to the whole phone.
How much difference do you think having a true eight core processor will make to the ZP700? Well Zopo finally break into the Western mainstream with the release of this phone? How much do you think it will cost, what scores do you think it will get on benchmarking software and how will it compare in real-world usage to current top-end smart phones like the HTC One, iPhone 5S and Samsung Galaxy S4? Stick around as we report all the latest view following the launch event on 21 November.