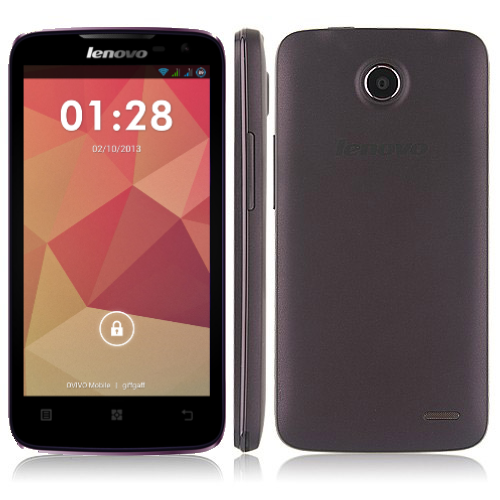 Welcome to our Ultimate Lenovo A820 Review 🙂
Contents
Introduction
A couple of months ago, we had our first taste of the rapidly growing Chinese smart phone market when we managed to get hold of a Lenovo A789. Although they produce a wide range of electronic hardware, Lenovo have yet to release a single mobile phone in the British market and we had to import it directly from China to be able to review it.
Importing phones from China is massively increasing in popularity these days as with the advent of the open source android operating system, it's possible manufacturers to massively undercut prices for parable handsets available over here. Objectively, most Chinese phones offer unparalleled value from money understandably many consumers have concerns about buying from foreign sellers.
We set out to explore whether these grey market imports are as good buys as they may seem. Today, we're looking at another imported Chinese phone again manufactured by Lenovo. It's the A820 which is a newer model than the A789 and comes with the upgraded MT6589 chipset. You can currently buy the A820 for about £100 brand new.
Check out our in-depth video review or read on more information on our verdict about the Lenovo A820.
Specs and performance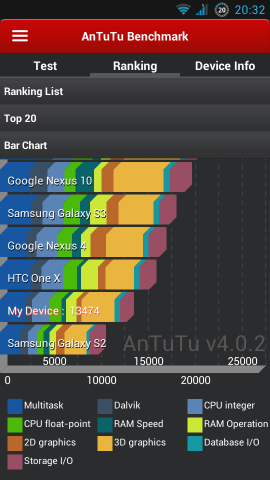 As with most of these phones, the chipset is manufactured by MediaTek and comes with an ARM Cortex A7 MPCore processor. ARM are a British company who make a huge number of low-power CPUs primarily for smart phones such as the iPhone. The chip is clocked at 1.2 GHz, uses a 28nm die shrink and is a powerful quad core model. Also included is a PowerVR SGX544 graphics chip.
There's no denying that this is a powerful phone, and only the latest and most expensive smart phones will be able to beat it in the performance stakes. We ran several benchmarks on it and using AnTuTu we got scores as high as 13,500. There is no phone available on your even comes closest the at this price range and is about double scorches by the Samsung Galaxy S2 which currently retails over £200 compared to about half that for the A820.
Under the hood, the A820 also comes a hefty 1 GB of RAM and 4 GB of storage along with a Micro SD card expansion port. The screen is a IPS capacitive LCD touchscreeen that supports multi-touch. Coming in at 4.5″ diagonal, it is a comfortable size. However, it certainly does not compare to expensive high res "retina" displays currently available on the most expensive phones. We would certainly like to see at least a 720p resolution on the screen as the pixel density is only about 245ppi.
There's no front facing camera for video calls and selfies but there is a shiny-looking eight megapixel sensor on the back of the phone. This can also take 720p videos. The phone also includes all the normal connectivity options, radios and senses. It offers wifi, high speed HSPA+ 3G mobile Internet, bluetooth, FM radio and assisted GPS. Of course it also has the usual accelerometer and proximity sensors.
Design and form factor
The phone doesn't look much different from Lenovo's other models but feels good in the hand and has a beautiful metallic purple-grey removable back cover. The speaker grilles look very smart and has a nice chamfered rim running around the perimeter of the phone.
The whole package isn't the most svelte coming in at 135 mm tall by 68 mm wide. However, it is less than 1 cm thick and packs in a powerful 2000 mAh battery even though it weighs only 151 g.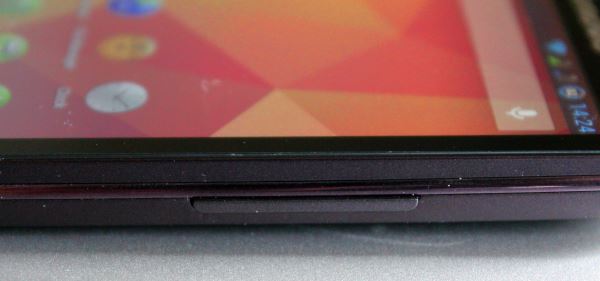 There are only two physical button is on the phone: a volume rocker on the right-hand edge and a power button at the top which is positions next to the micro USB socket and standard 3.5 mm headphone jack.
The rest of the buttons are softkeys at the bottom of the screen which provide menu, home, and back functions. Again, Lenovo have used their trademark cloverleaf symbol instead of the standard "house" home icon. Compared to the A789, we're glad that they chose the softkey layout they have as it is much more common for Android hardware.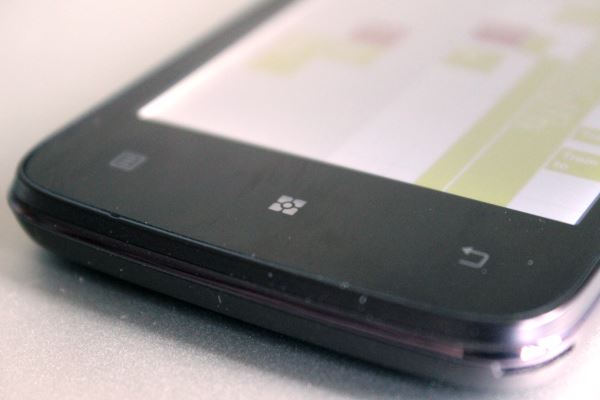 Software and Android Jelly Bean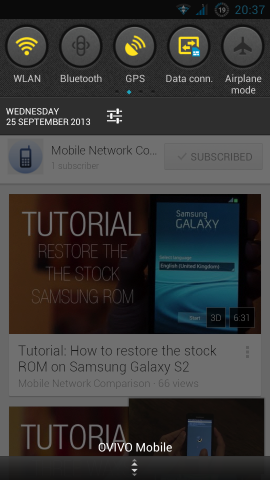 The Lenovo A820 comes running Jelly Bean – the latest version of Android. This is a massive pro-as in our opinion, Android has grown with massive leaps and bounds in recent updates and Jelly Bean offers considerable advantages over previous iterations.
Our A820 arrived with only a Chinese language operating system installed, but it was simple enough – after wrestling with USB drivers – to flash a new recovery partition and install an English ROM complete with all the regular Google apps available in the UK.
In fact, the installer we used was pretty flashy and allows you to customise many aspects of your installation including which launcher and additional software to have automatically installed and even to choose whether to include Lenovo branding or not (although either way Lenovo customises several of the icons to fit in with its round aesthetic). This is an excellent feature that should really be available all phones in this day and age.
As a result of this, you aren't lumped with loads of annoying Lenovo bloatware and end up pretty much with stock Android. This is awesome as any Cyanogenmod user knows. The only apps we chose to use were the excellent power monitor with quick access to different battery saving profiles and Lenovo's useful widget in the notification dock that gives you quick and easy access to many common features and functions of your phone.
Lenovo have not used the stock Android camera app but what they're offering is actually a bit of an improvement with easy access to information about common settings such as white balance, exposure compensation and ISO. A great feature is that you can use the volume buttons as a shutter action to take photos when holding the phone in landscape orientation. The camera also includes a built-in HDR mode which seems to work okay.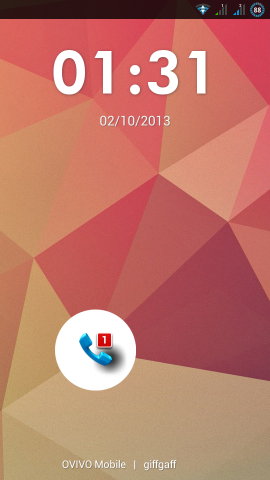 A pleasing aspect of the launcher is a really cool feature where notifications such as texts and missed calls automatically appear on your lock screen and can be accessed instantly simply by dragging them to the unlock icon. This can save quite a lot of time compared to unlocking your phone and then navigating to the appropriate app that will open the notification. The phone has a nice light-coloured theme which is easily customisable.
Overall, if you've used Jelly Bean you know what to expect. It's probably the best operating system currently available for any phone and introduced some seemingly minor features which actually make a huge difference to productivity. For example, notifications are now expandable and retractable with single-finger swipes to provide as much information as you require and, of course, it already includes all the additions already introduced in Ice Cream Sandwich.
Another new feature of Jelly Bean is the Google Now personal assistant. While it still has some niggles and isn't useful for all purposes, it usually outperforms Apple's Siri and can be a real timesaver in many circumstances. More and more features are being added and it is already well integrated with other apps available in the Android ecosystem.
Android is especially powerful due to its ability to share information between any of its apps and display constantly updating information on your home screen through its extensible use of on-screen widgets. It also benefits from Google's Project Butter which makes the whole interface silky smooth with no perceptible jerkiness or lag.
Using the phone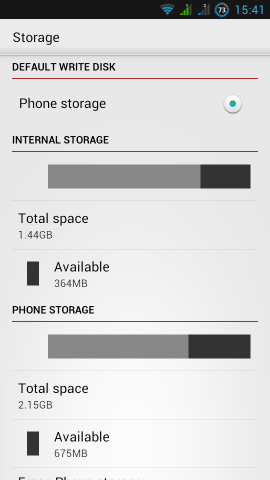 We've been carrying the A820 around with us for about two weeks now and have not encountered any major problems. In actual fact, it's been a real pleasure to use and offers a great on-screen keyboard and excellent clarity in the call quality.
With the processing power crammed into this handset, we found it handles most tasks with ease and can even play intense 3D action games without breaking a sweat at all. We did have to use our Micro SD card though as we found that 4 GB of internal storage ran out very quickly and in fact was barely enough to install some of the most memory intensive games from the Play Store.
We were little disappointed by the quality of photos taken especially as the phone boasts an eight megapixel camera. We don't know for sure, but wouldn't be surprised if the sensor was actually a lower resolution than this and the resulting photos are produced by interpolating between pixels in postprocessing. It seems to be a common trend that most Chinese phones don't have the best camera quality as the manufacturers are equally go for cheaper sensors and optics but the pictures it producers are still pretty good for a phone.
We also found that there are some issues taking videos as the camera tried to autofocus when moving between subjects resulting in some temporary blurriness. Also exposure wasn't perfect at all times. It would also have been nice to have an LED flash too even though the results are usually far from great. However, these are all common issues with imperfect phone cameras and we have no complaints at all for Lenovo's decision to keep the price down so low.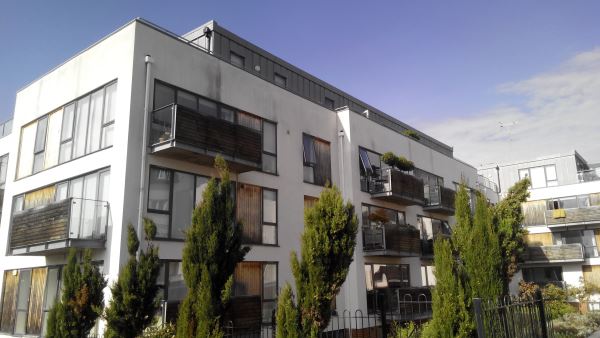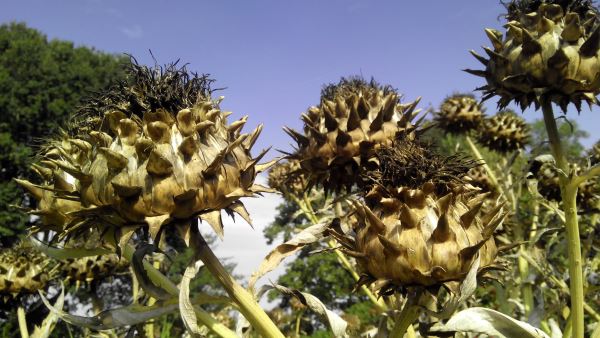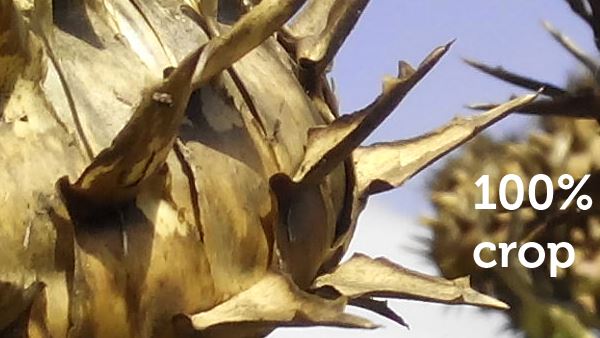 Using the A820 on a daily basis made us realise how much we appreciate three features of its in particular. The first was the massive battery life. If you are used to a normal smart phone such as an iPhone, you will be well aware that it often barely makes it through a working day. In fact many people carry their charger with them everywhere they go and we always ensure that we have a couple of spare batteries in our bag in case our phone dies before we make it back home again.
It may have made the phone a bit bulkier than some of its competitors, but we love the fact that Lenovo have included a 2000 mAa battery that easily lasts 24 hours. If you you're going out for long night after work and need it to last longer, the flexible power saving options mean it's easily possible to get two or three days usage out of the phone.
Even better than that, Lenovo have again included a fantastic feature that we've missed since ditching our Nokia 3210 many, many years ago. The phone can be set to automatically power on and off at certain times of the day and even on particular days of the week. This makes it easy set the phone to turn off when you go to sleep on a working day and turn on again just before triggering your morning alarm.
We find this an incredibly useful feature both to prevent you from being woken by notifications in the night and to help eke out the last drops of battery when you're away from home. Smartphone manufacturers of the world please pay attention: we want to see this feature in more handsets!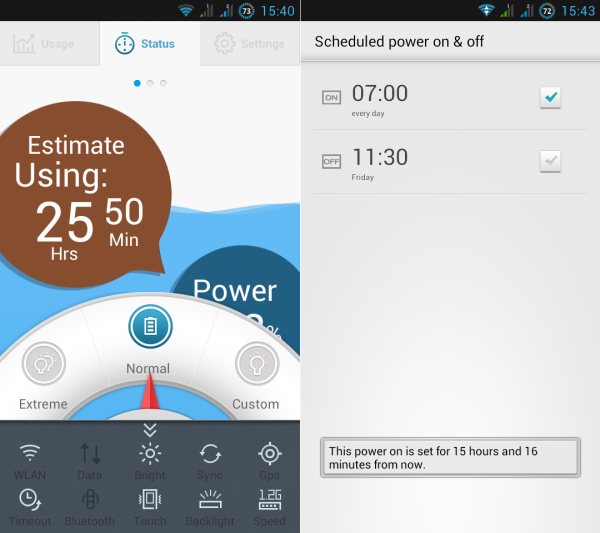 Of course, as with the A789, by far our favourite feature is the dual SIM capability. There are two normal-sized SIM slots above the and you can actually use both simultaneously. One is 3G capable wjhereas the other is limited to 2G only. However, it is not something that should never cause an issue. It's perfect for those of you who resent having to carry to phones around all the time and we can really see it coming in use for business users and international travellers in particular.
The SIM management software is superb. You can individually decide which seem to use for all of calls, texts, picture messages, and data usage. So, for example, you could find a cheap data SIM to use for your internet needs whilst getting a better value rolling contract to cover your calls and texts. Alternatively, we can see being fantastically useful when travelling abroad so you can still send and receive texts from your regular phone number but use a local SIM in the 3G slots to provide you with cheap mobile internet without having to shell out for hefty roaming fees. The dual SIM is a fantastic idea and is implemented excellently.
In fact, we found ourselves being continually surprised by how smart the integration of the two SIM cards is. For example, when calling or texting you can simply switch between the currently-active SIMs using a notification bar option. And you can even activate each one individually so you can run each separately, both at once or none at all.
You can colour code each SIM card as you please and Lenovo have set up the dialler and the texting app to make it easy to choose which SIM and which phone number you want to use. The software is even adaptive to how you use your phone so if you tend to call the office with your work number and your friends with your personal number, the phone will automatically pick this up and suggest that you use the appropriate SIM when initiating a call. It also has separate data allowances for each SIM card so you can keep track of your usage individually.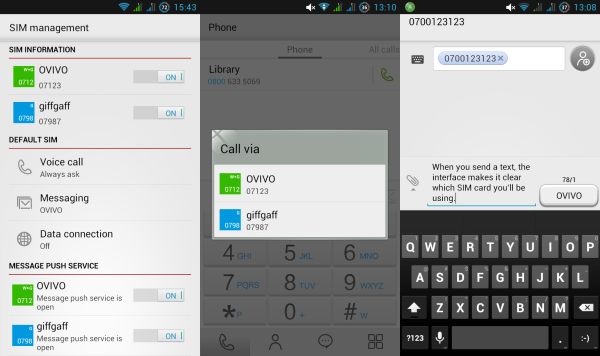 Round-up
As ever, when looking at Chinese phones, the main selling points is just how much phone you're getting for your money. £100 is incredibly cheap for a phone packing in these specs and these features especially as it is running Android Jelly Bean.
This is a phone that's aimed at the budget end of the market but it means that consumers can get a mid-range phone for much less money than they would otherwise have spent. It certainly doesn't aim to compete with the iPhone 5S, Samsung Galaxy S4 or HTC One, but then it comes in about five times cheaper than these alternatives.
As you're buying a phone from abroad, it's understandable that they are some things to be concerned about. For example, if you're not happy with flashing your own ROM across, you might want to ensure that the seller has already installed an English operating system on there. Most UK sellers will have done this for you and if you buy from China you can usually pay a small fee to have this done in advance.
If you are importing the phone, another issue to be aware of is customs fees and import duties which can add a surprising amount onto the price especially as you have already probably paid quite a lot for international shipping. Also, you should be aware that even though, of course, you get a warranty, you might end up having to pay return postage to send it back to China to get fixed unless you're willing to go with a UK-based repair shop should anything unfortunately go wrong.
The Lenovo A820 has some issues with the camera quality and may be a bit bigger than your friends' latest, flashiest phones. However the positives vastly outweigh the negatives. We're so glad to have a decent sized battery that easily lasts a full day which really makes a big difference to the usefulness of your phone. After all, how many of you have consciously tried to avoid using internet when you know you're going to be out for a long while so that you have enough battery at the end of the night to get yourself back home again?
The dual SIM capability is a real revelation if you haven't used it yet I can make a massive difference if you have to carry around to phones everywhere you go currently. Of course the software is excellent and all the additional features that Lenovo have packed in make this a great companion for day-to-day use.
Overall there is no denying the obvious: this phone beats almost anything else on the market value for money. It has 1 GB of RAM and a quad core processor but still costs just over 100 quid. If you don't have hundreds and hundreds of pounds to spend on your mobile phone but still want all the bells and whistles of a smartphone without the lag of the cheapo models, this is a great choice to go for. There are a couple of compromises, as they are with any product, but the Lenovo A820 is a great handset and an utter bargain at this price.
Mobile Network Comparison's Lenovo A820 rating – 8/10 stars











Main disadvantages
It can sometimes come with a Chinese language ROM and the phone is still not available natively on the UK market.
Even though the screen size is a comfortable 4.5 inches, it may be a bit bulky for some.
The videocamera doesn't always produce the best results and there's no LED flash.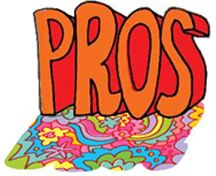 Main advantages
As with the A789, it offers incomparable value compared to almost any phone available on British high streets
Android Jelly Bean – a joy to use.
All the power saving features – scheduled on and off, battery profiles and a long-lasting, removable 2000 mAh power cell.
The amazing dual SIM ports.
A quad core processor and high benchmarks for only about £100.
Have you tried the Lenovo A820 or any other phones imported from China? Would you buy a Chinese phone? And which model should we review next? If you have any questions or comments about this review or about importing mobiles in general, please let us know in the comments below.
[ois skin="MNC 1.2″]