One 24 September, Giffgaff implemented their long-discussed new range of monthly goodybag bundles. The reactions have been incredibly varied but mainly negative. But if you're a Giffgaff user, what exactly do the changes mean for you?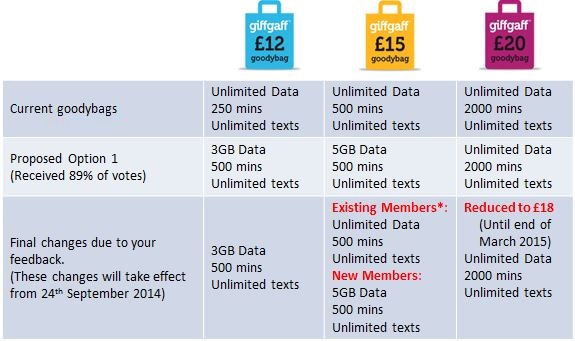 We recently discussed the background to this price increase Goodybag change, but let's go into some details about what actually happened and how you'll be affected. Here's what's new:
£12 goodybag: reduced from unlimited data to 3GB but minutes have increased from 250 to 500
£15 goodybag: existing users with a SIM activated before 21 August 2014 can keep the current offering with unlimited data and texts and 500 minutes. New members will only get 5GB of data instead.
£20 goodybag: discounted to £18 until the end of march next year.
£12.50 gigabag: discounted to £12 goodybag permanently
Goodybag renewals: finally users will be able to buy another goodybag before their current one expires in the same month if they've used up their allowance.
So will you be affected? The most obvious difference that has concerned the most people has been the removal of unlimited data at the £12 and £15 goodybag options. Of course, if you're an existing customer, the complaint about the £15 goodybag is irrelevant as you'll still be able to buy it as long as you activated before 21st August. But you do have to be very careful as it's only available as long as you purchase it at least once every two months.
However, for people who made the most of the £12 goodybag, they're going to have less data or have to spend more. To be fair, this was one of the cheapest deals going in the UK and spending just an extra £3 a month isn't such a big deal as it brings the allowance more in line with other competitors. And if you still want to pay just £12 3GB isn't a bad deal at all and should last most people fine. It's also an improvement in some cases as the data is now tetherable.
Giffgaff have actually run some statistical analyses to see how this will affect their users. And they found that, in fact, 79% of members on the £12 goodgybag would be unaffected by the price change as they currently don't even use more than 3GB a month. As for users currently on the £15 goodybag, only 17% ever actually use more than 5GB of monthly data so an even smaller proportion will be affected. Again, if they do desperately need unlimited data, the price increase is only £3 extra and it comes with plenty of extra minutes too.
They have also emailed each member with a summary of their usages of texts, minutes and data for the last four months so they can easily see what time of user they are. Helpfully, Giffgaff have also calculated which goodybag is the best value for money for you so you don't have to crunch the figures yourself.
But why change at all? Giffgaff claim that they've been witnesses increasing frustration with data speeds in user forums and that this is necessary to safeguard a reasonable user experience expeically before the 4G launch. They were the cheapest offering which attracted lots of users who just wanted to rinse the unlimited data for all its worth which negatively affected other users. It's a bit of a cop out, but it does at least make sense. At the same time, Giffgaff have also introduced traffic management called Traffic Flow which limits bandwidth use during certain peak times. Where members are using more than their fair share of network resource during the busiest hours, a 300 kbps restriction will be introduced for the remainder of the peak period. A peer to peer speed restriction of 100 kbps during peak hours will also be introduced for these users but all restricts will be removed at the end of the peak period.
So that's the basic summary of what's going to change for all Giffgaff's goodybag users. Are you a Giffgaff user and do you regularly buy a goodybag? Did you take part in this consultation and what was your take on it? How did you think Giffgaff dealt with it? And have you been affected and if so what's your opinion now it's in action? Please share your thoughts below.