It's now been a couple of weeks since Giffgaff implemented their latest pricing changes so it's time to reflect back on what have been the biggest alteration to their goodybag offerings for several years.
It had been quite a while since the last big price increase and, since they market themselves as "the mobile network run by you", Giffgaff were very careful to at least make the pretence of allowing their users to have a significant say in the changes. However, it was clear that no matter what the consensus was, something was going to have to give as the unlimited data offerings were economically unviable especially with 4G on the horizon and more and more people owning 3G handsets.
For months there had been issues with people "abusing" unlimited data goodybags for cheap prices which was costing the network a lot of money and adversely affecting other users both on Giffgaff and their parent network, O2. Tethering and detecting it was also a confounding factor. As a result, Giffgaff needed to reprice goodybags and began a user consultation on 6 August 2014. They'd previously been discussing similar issues in the community for several months.
After listening to member feelings, they offered three options. All removed truly unlimited data for every goodybag except for the £20 one. The main difference between all the choices was the amount of included data available which was ratcheted down with a corresonding increase in free minutes included.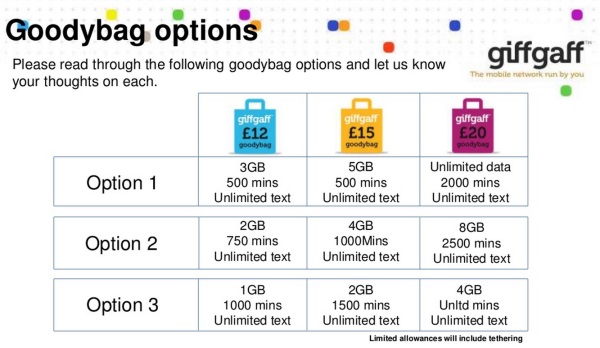 Unsurprisingly, the community voted very strongly in favour of the highest data allowances on offer and much of the discussion was vehemently against any removal of the unlimited data option on the £12 goodybag. As one customer put it:
I for one will not be casting my vote for option 1, 2 or 3! This is a load of crap! The main appeal for me in leaving my old network and signing up to giffgaff was to receive unlimited data usage at a reasonable price. That's how you batted the hook and reeled a lot of people in. And now your moving the goal posts and that sucks! You tell us to modify our usage habits to improve the experience for everyone. We do this and what reward do we get? A thank you email and a proposed price hike! Thanks giffgaff! Thanks a lot!
Nevertheless, unsurprisingly the changes were steamrollered in. As of 24 September 2014, the goodybag changes were live on the site and the old goodybag were no longer available for purchase. Of course, Giffgaff is still one of the best value options available but that's small consolation for those who now are paying about £3 more every month.
Thankfully, following the initial consultation Giffgaff took on board more feedback to make the changes not quite as harsh. But the net result was that the following new goodybag range was implemented.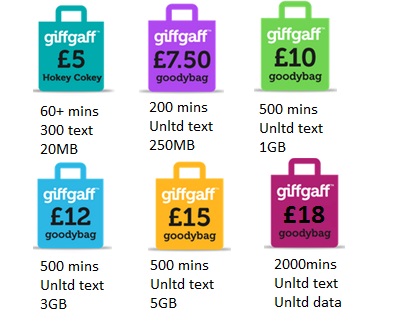 Stay tuned for another post detailing exactly what has changed. And in the meantime, please let us know your thoughts and opinions on this matter in the comments below. Thanks for reading 🙂