Giffgaff is a virtual mobile network that was launched on 25 November 2009. Giffgaff is an old Scottish Gaelic word which means "mutual giving" and the name was chosen to fit with the principles outlined in the manifesto such as being member run, always listening to members and rewarding them in kind. This is a unique aspect of Giffgaff – its users also help out in operating the company in areas such as customer service, sales and marketing. They are rewarded with offers and cashback for this work.


Giffgaff was founded by Gav Thompson, who came up with the idea after studying "Web 2.0" businesses in San Francisco in 2008. During the first year of operation in 2010, Giffgaff won two industry awards, the Forrester Groundswell Award and the Most Innovative Community Award. It was also nominated for the Marketing Society's Brand of the Year.
For those that don't know, it runs on the O2 network just like other virtual networks such as Tesco Mobile. However, it has exactly the same signal quality, data speeds and coverage as O2 . The only difference is that Giffgaff's community-driven concept allows it to keep its costs down while still providing a superior service. It only employs 16 people but is already exceeding its targets. Giffgaff has a strong ethics policy and gives away part of its profits to charities.
Contents
Giffgaff review
Welcome to our new Ultimate Giffgaff Review updated for 2017. This massive 4,400 word article aims to be the most comprehensive and fair review of the complete Giffgaff experience. We first reviewed the network back in 2010 and have been testing it ever since so have had a chance to see first hand pretty much every aspect of the network.
For those who are curious, we still have an online copy of our original review from 2012 for your reference, but be warned that some aspects are now out of date.
Joining Giffgaff
Like many others, we first heard about Giffgaff some time before actually trying it out. For some reason, the hassle of ordering a SIM and paying to top it up didn't seem to be worth it even though it seemed to be a good money-saving proposition. At the time, there was very little information about Giffgaff online and very few reviews and user opinions. We were concerned that, after getting everything set up and moving our mobile number over, it would turn out to be too good to be true or even run out of money and shut down.
However, after a bit of research we found out it was as a subsidiary of O2 and hence had some big-brand brawn as well as plenty of funding. It was this fact that made us decide to delve a little deeper.
Another issue we had was moving to a PAYG network. Those of you who are used to contracts probably understand the worry of getting stranded after forgetting to top up as well as the pain of constantly buying vouchers from newsagents. Thankfully, if you want, you can completely sidestep this issue as they have new features such as auto-top-up and automatically recurring bundles.
In the end, what made us switch was the massive data costs charged by our old network. When we called up to say we were cancelling, we hoped they would beat or at least match Giffgaff's offers to retain our custom given we'd been loyal customers for over 5 years. However, they couldn't get close to the prices available on Giffgaff.
So after all that, a few months after first reading about Giffgaff, we decided to make the switch and haven't looked back since. If you thinking about it, why not just order a SIM card now just in case? There's no obligation, it's completely free and if you use this link you get £5 free credit to get you started off.

Initial set up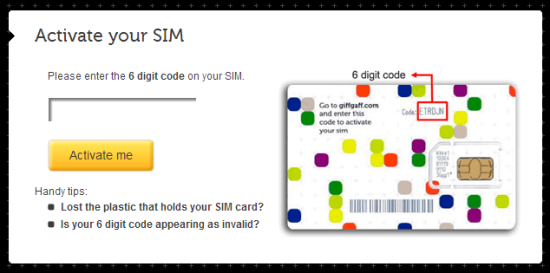 After the SIM arrives in the post, you'll need a phone to put it in. Any phone will work as long as it's unlocked. Giffgaff also works out of the box on O2 and Tesco Mobile phones as they all use the same network. If your phone is locked to a different network, it's usually easy to get it unlocked for free or a small nominal fee.
Then you need to activate the SIM. This involves typing in the 6 digit code on the SIM card then topping it up with a minimum of £10. With the free bonus credit you get, you'll end up with £15 usable airtime credit after activation.
The activation process is very simple. You just need to buy a top-up voucher from a shop. You can get this from any newsagent, supermarket or Post Office (very rarely the cashier will find it hard to find Giffgaff on the screen but ask them to persevere – it's definitely there but you can also use O2 top-up vouchers).
Even easier you can top-up directly online with a credit or debit card. Activation can take an hour or so but you should be up and running in no time at all.
Your phone will now be Giffgaffed and ready to use. Sometimes you have to input the settings manually but most phones should sort themselves out automatically. When you first log into your account there's a really handy guide that will hold your hand through all the first steps to getting set up.
The only other thing you need to do is move your old number over if you want to keep it. We have full instructions for doing that here and it should only take one working day. We scheduled our number port-in for Tuesday so there was plenty of time to sort things out before the weekend in case there were any issues moving it over. After waiting patiently, the old number was up and running by 1:30pm on the day Giffgaff promised. Simple!
PAYG Pricing
So what's so good about Giffgaff? In one word: price! Switching to Giffgaff will probably be the cheapest option available and will save you a ton of money on your mobile phone.
At a glance
Calls: 15p
Texts: 5p
Data: 20p/day

(20MB)
MMS: 16p
0800: 0p
0870: 12p
Call prices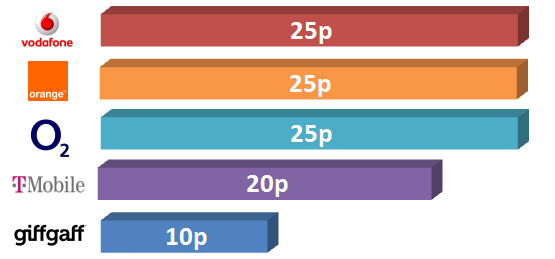 Text message prices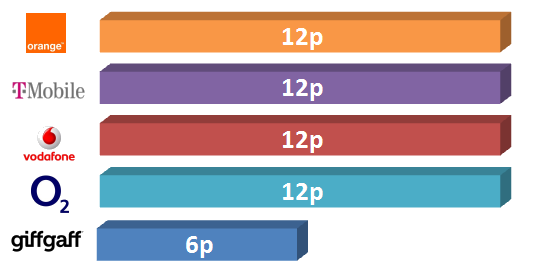 Giffgaff is incredibly cheap compared to other PAYG mobile networks. While you can easily be spending 25p/minute for calls and 10p per text elsewhere, Giffgaff only charges 10p/minute for UK calls and a meagre 6p per text. Even though their prices went up recently, Giffgaff are still one of the cheapest networks in the UK.
It also has the cheapest mobile data rate going as you can use up to 20 MB a day for just 20p – perfect for the occasional web search, train timetable or check on Google Maps. Voicemail is also very cheap at just 8p per call no matter how long you take!
Even better, they have a rock bottom MMS price of just 16p each and – amazingly – all freephone 0800 numbers are completely free to call. Given you can often find an 0800 alternative for most companies, this alone can provide massive savings.
They also have some of the cheapest international rates available. For example, calling or texting Europe or North America is just 8p per minute or 8p per SMS. You can also send an unlimited length MMS worldwide for just 24p. While going abroad is always expensive and you're often better off getting a local SIM card, compared to other networks, it also has rock-bottom prices for roaming anywhere in the world.
Best of all is a price plan that Giffgaff invented – free calls and texts to other Giffgaff users. As long as you've topped up in the last three months, all calls and texts to other Giffgaffers are completely free. If you get a couple of your friends and family on board, you can quickly cut down your mobile bill to almost nothing. And you probably won't believe this but even video calls are completely free to other Giffgaff customers.

So even though there are a few small start-up networks that are slightly cheaper than Giffgaff for UK landline calls or texts, when you factor in the free 0800 numbers and free calls to other Giffgaff users (you'll probably be surprised to find out how many people you know have already switched) Giffgaff probably will end up being more cost effective as well as a much higher quality option.
To compare Giffgaff's latest pricing with that of other networks to show just how much cheaper it is, please check out our conclusive mobile price comparison table.
Goodybags
If you're not a light user or you're used to being on a contract, Giffgaff have monthly fixed-price tariffs to offer you even better value. These have recently been updated and offer unparalleled value for money. You simply can't find contracts that give you so much for so little.
Giffgaff started trialling 4G with special goodybags towards the end of 2014. Now, of course, the full 4G LTE service is up and running providing superfast mobile internet for all members. 4G is available without having to swap your SIM and is included on all the bundles so if you have a 4G handset and live in an area where connectivity is available at 4G speeds, why not try out 4G speeds on Giffgaff yourself?
The monthly bundles are called Goodybags and the first one is the great-value £5 goodybag: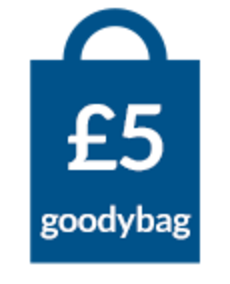 Despite only costing £5 you get a decent complement of calls, texts and even data. The £5 option includes 125 minutes of UK calls to any network and 500 texts – that's over 15 texts a day every day. You also get a mobile internet allowance of 100MB. If you can believe it, in total it comes to a massive value of £48.75 worth of calls, texts and data if you're on the standard PAYG tariff. All for just a fiver!
The £7.50 goodybag is another great budget choice: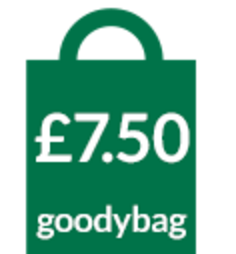 This offers really good value for money for smartphone users with a moderate monthly usages. Included is 250 minutes of call time on top of your free Giffgaff-to-Giffgaff minutes. You also get 500 MB of tetherable mobile data as well as completely unlimited texts.
Next up is the £10 goodybag: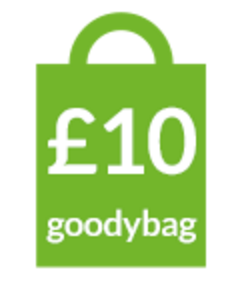 This has recently been changed from unlimited data to 1GB data but you are allowed to tether. This means you can run your laptop or tablet from your phone as well or even put it in an iPad.
As well as the internet data, you also get completely unlimited UK texts. The voice allowance has recently been bumped up to a huge 500 minutes of call time (which alone is worth £75).
Probably the most popular choice is the new £12 goodybag: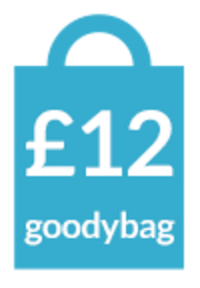 This is exactly the same as the £10 goodybag but you pay an extra £2 to get 2GB data instead of 1GB.
The £15 goodybag comes with 1,000 minutes of inclusive call time to any network as well as unlimited texts and a huge 4GB of superfast mobile data. This is our favourite option that offers a balance of value and a generous allowance.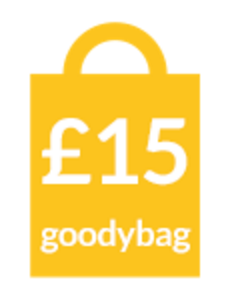 Next up we have an £18 goodybag. This is really for those addicted to their phones with a mighty 2000 UK minutes of talktime (that's over 30 whole hours of talktime and alone would normally cost you £300) and a tasty 6GB chunk of mobile data included. Of course, you also get unlimited texts.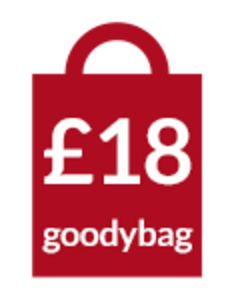 Finally, the gargantuan £20 goodybag for super powerusers.: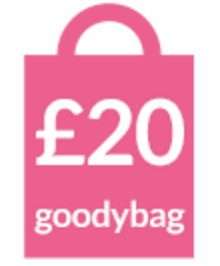 First of all you get 2000 minutes of UK calls You also get completely unlimited texts and internet. And don't forget, with all goodybags you still get free calls and texts to other Giffgaff users which aren't taken out of your monthly allowance.
Goodybags have lots of benefits. As they are monthly, you can switch up and change or even cancel a goodybag altogether. So if you go away for a month or two, you don't have to keep paying your usual monthly price. Or if you have a busy month coming up, you can simply buy a more expensive goodybag next time. Giffgaff has also recently fixed on of the biggest issues with normal monthly deals so that if you underestimate your monthly usage you can simply buy another bundle before the month is up. No more issues with pricey overage fees or being stuck at PAYG rates after using up your included minutes and megs.
Another great thing about goodybags is that they can be "set and forget". Through your Giffgaff account you can easily set them to auto-renew each and every month and even set it up so that your bank card is automatically debited to pay for your new goodybag. You can cancel your auto-renewal any time you want so you're not locked in or even just enqueue a new goodybag one month ahead at a time.
If you're worried about not getting a free phone with Giffgaff like you would on a contract, it's worth looking up total cost of ownership which we've written about many times before. Even if you get a free phone worth £300 with a contract that costs you £30/month, you'll also be locked in for about two years. Over those two years you will end up paying £720 plus any overage charges.
Alternatively, with Giffgaff you can buy a £12 goodybag every month for two years and buy the phone outright at the beginning and your total cost will only be £588. Plus you'll have the freedom to change your goodybag whenever you want or change handset before the two years are up if you fancy. You won't be locked in and you're free to change whenever you want as well as saving money. Also, you'll be getting completely unlimited data on your phone which is becoming pretty rare on other networks. Why wouldn't you?
Apart from saving money, The other great thing about choosing your own handset is it's much better for the environment. There are millions of unused phones wasting away in the UK because they come free with phone contracts.

Gigabags
As well as goodybags, Giffgaff also have mobile internet bundles specially designed for dongles, laptops and tablets such as the iPad. If you want to tether with your Giffgaff SIM or use it in a non-phone device, you need a goodybag with tethering enabled or a data-only Gigabag.
Gigabags come in two flavours – £5 giving you 500 MB of 3g data and £7.50 giving you 1GB.


One thing to watch out for is that Apple have blocked their iPhones from being able to use the tethering feature. However, it's simple to get round this restriction by jailbreaking it. Of course, Android and all other phones don't have this problem – you can simply set up your Giffgaff phone to tether to laptops and other devices.
BlackBerry add-on

Finally, if you have a BlackBerry and want to use BBM and BlackBerry email it's easy on Giffgaff. If you have a BlackBerry 10 device or newer, everything will work automatically. However, for older BlackBerrys you will need to buy a BlackBerry add-on for £2.50. be careful as you must buy it at the same time as you buy your goodybag – you can't add it on later.
Features
Giffgaff doesn't only have the cheapest PAYG rates and best value bundles, it also has a ton of great features. For example, online top-up is simple and easy and can be quickly automated. As mentioned earlier, Giffgaff can also be effectively used like a contract by setting your goodybag to auto-renew. You just get the added benefit that you can change it or stop it whenever you want.
A really cool feature is that you can top-up anyone else's Giffgaff account if you want to too. Perfect for sending a bit of extra credit to the kids or a friend when they've run out.
If you're a social media user, Giffgaff also has a cool feature where you can update your Twitter timeline or Facebook status by SMS from your phone. Even better, it's completely free!
Unlike some other networks, Giffgaff also has allowed advanced features like call waiting and call forwarding. This is easy to set up and doesn't cost you any extra. If you use them, SMS delivery reports are slightly odd on Giffgaff. Unlike other networks, they are completely free. But they are slightly tricky to turn on as they need setting up manually with a special *0# code.
One thing we'd like to see Giffgaff introduce is instant itemised billing. While this is still quite rare and only very few networks include it by default for free, it would be a great thing for them to offer especially as they are a largely online-based network. It's a really useful feature and would give them an extra edge if it was added to the online portal.
We also especially like the optional monthly "best plan" email. This breaks down your usage over the last month detailing information such as your most contacted phone numbers and how much you've saved with free calls. It also goes in-depth into your calls, texts and data usage to let you know what the best price plan is for optimal savings. Pretty nifty!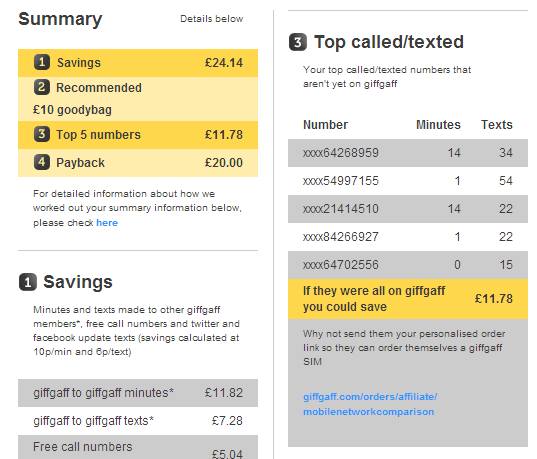 Video calls are completely enabled on Giffgaff and, amazingly, are free to other Giffgaff users. And, as we mentioned already, all calls and texts as to Giffgaff users are free which can save you a ton. As can free 0800 number calls.
Also, Giffgaff fully supports new handsets that use the new micro-SIMs or nano-SIMs. Just use the following links to ensure you get the correct type:

Service quality
So how does it perform? We've been using virtual networks for years and years so didn't have any worries about this but some people trying one out for the first time can be concerned that the signal might be bad or they'll get second-tier data service. Giffgaff runs on exactly the same network infrastructure as O2.
We've done trials using two identical models of phone with a Giffgaff SIM card in one and an O2 SIM card in the other and couldn't detect any different in network coverage. The same applies to data speeds. In fact, Giffgaff have publicly confirmed that the service they provide is identical to that on O2. In some cases it's actually better as they give extra bandwidth that's usually reserved for O2 contract customers and not usually available for PAYG customers.
As for data speeds, we found 3G internet to be very satisfactory. Depending on where in the country you are, download speeds can vary between about 1 Mbps and 4.5 Mbps – plenty fast enough for streaming, etc. Of course, 4G speeds are blisteringly fast and only improving as more coverage is rolled out!
There doesn't seem to be much variance about time of day. It's usually just as quick during work hours as in the evening and there's no obvious slowdown during commuting times. We do notice that internet speeds are usually fastest in the middle of the night though.
Call quality is excellent and has no problems at all. Everything comes through loud and clear. As always though, the coverage does depend on where you're using your phone. You can always do some research by asking a friend who uses O2, Tesco Mobile or Giffgaff where you live. Or just carry on reading or use our coverage checker.
Coverage
Summary
2G coverage: 99%3G coverage: 98%4G coverage: 78%
Coverage map
Giffgaff uses the O2 network. Please see our Giffgaff coverage page to learn the network coverage in your area. For more information, compare it with other mobile phone networks' coverage.
Community and support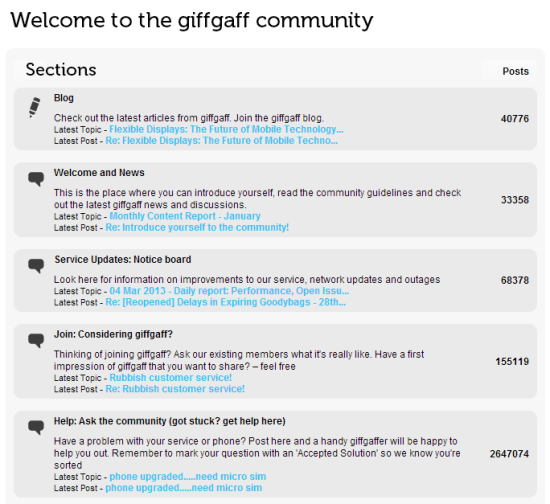 One of the cornerstones of Giffgaff is its large community. In fact, the community of users is one of the main reasons the network is able to offer such competitive prices. Giffgaff was founded by Gav Thompson and the business model was based solely upon his research into modern web businesses. He took what he'd learned to make a completely new type of mobile network that used its members as the first tier of support. By doing this, and rewarding people for helping out, he thought he could save a lot of money and these savings could in turn be passed on to the network's users.
Effectively Giffgaff is crowdsourcing its customer service. And this means that the average amount of time customers wait for an answer on the community is just 90 seconds! Compare that to other networks where you're often on hold for ages before getting through to someone in a call centre who can't help anyway.
In case it's not something the Giffgaff community can help with (for example, account or billing issues) there is also another way to get in touch with a staff member. It's all done online and you can simply send your query through to an "agent" who guarantees a response within 24 hours. And it's usually much quicker than this – last time we had to use this we had an answer and a solution in our inbox within 4 hours! And that was outside normal working hours too.
Giffgaff also have dedicated members of staff that will directly help out with issues such as removing the content bar which is unfortunately enabled by default and porting your old mobile number in. This is all seamlessly integrated into the web interface and is pretty straightforward.
Having said that, the Giffgaff model isn't perfect and it isn't for everyone. While you do get a very quick response by posting a question or issue on the community forums, you usually actually get too many responses. Within minutes, you'll probably have a flood of 10-15 different answers. Most of them will be useless copies of each other or even wrong solutions by people who don't know what they are talking about. But if you wait a minute or so and look through the answers you get, it's quickly clear what the correct course of action is. You just need to pay more attention to posters with better reputations and weed out the obviously stupid replies.
This may sound like a bit more hassle but it's still a lot quicker than navigating tedious menus and on-hold music. And we've found that almost anything will be sorted out by the community pretty quickly so it works really well.
But at the end of the day, if you're not too good with computers and you really need a contact number that will eventually get through to a real human, Giffgaff might not be for you. Especially if you are the sort of person that want to constantly call up customer services for every issue as you are not tech savvy. But having said that, my grandma has managed fine so it can't be that hard! The vast majority of people prefer community support over being misunderstood by someone in India especially as they save tons of cash. But if you're willing to have a higher phone bill to get a customer service phone number, you might want to look at other networks. For the rest of us, Giffgaff is well worth it.
Now Giffgaff's been running for several years, this model of customer support has turned out to be more successful than anyone ever imagined. The prices available are much much cheaper than those available from rival networks and the customer support system is still working smoothly.
In fact, Giffgaff staff have been giving tons of presentations at big industry conferences about just how successful this model is. Not only is it saving everyone a ton of money, but it also is getting a big thumbs up from the customers – satisfaction with Giffgaff's customer support is very high. Expect other networks to desperately try to catch up in the coming years…
One of our favourite aspects of the community forums is the transparency. Every day they report upon how quickly they have been responding to issues and how many problems have been solved. Statistics are given such as the average time for each response. There are also monthly performance updates that go into detail about how quickly the Giffgaff staff are solving customer problems.
They also involve the community in almost every decision. Giffgaff's members have a say in the pricing plans and the way the network is run. They even are heavily involved in adding new features. Anyone can make a suggestion and Giffgaff implements dozens of them every year. Personally, we think that's the way a network should be run.
Round-up
To conclude, let's recap quickly and go over some of the key pros and cons of Giffgaff.
Main disadvantages
There is no support number. You have to use the online community or submit a ticket with a customer service agent on the website.
Itemised billing isn't out yet and, if you need them, activating SMS delivery reports is a little tricky.
You have to buy your own handset. There's no option to have a phone included. But it is cheaper overall to buy your phone yourself up front and then pay less without an expensive contract.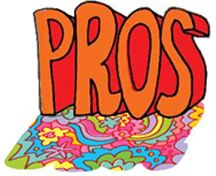 Main advantages
First of all, the main selling point – low low prices! It's a lot cheaper than any alternative. Whether you are a very heavy user or a light user or somewhere in-between, there's a tariff for you. No other network will work out as cheap and it's not unknown for people to spend £100s less a year. And don't forget you can save even more if you know other Giffgaffers – all calls and texts to other Giffgaff users are free all the time.
Truly unlimited internet for a ridiculously low price – £12/month.
Great call quality and signal strength from the O2 network.
The community is a huge bonus – not only is it a quick and easy way to get help but it's a fun group of people to chat with. And Giffgaff listen to your suggestions for changes and new features.
It's probably the most ethically-sound network. They give away millions to charity and try to be as environmentally friendly as possible.
No contracts and no lock in. Complete flexibility to leave whenever you want and to change price plans as and when you fancy.
£5 free credit if you order a free SIM now 🙂
Thanks for reading this review. We hope it's given you a much better idea about what the Giffgaff experiences is actually like. If it sounds tempting to you, don't waste any more time and order a SIM today. It's completely free and you'll start off with free credit.
Not only that but you'll be joining hundreds of thousands of other Giffgaffers on the UK's fastest growing mobile network.

Rating
Our final review score is determined by our readers – give your own rating to Giffgaff below:
Giffgaff

,