Devices such as the iPhone and the iPad require a special, smaller micro-SIM. It's also needed for several other devices especially newer phones. Thankfully, Giffgaff have now started issuing hybrid micro-and-regular SIM cards so it doesn't matter which you need, you'll be able to use it in your phone or tablet just fine. You simply snap out the section you need – regular sized for normal SIMs and micro-sized for micro-SIMs. Best of all, you still get the £5 bonus credit absolutely free when you activate your micro-SIM.
To order your free Giffgaff micro-SIM today, simply click on the banner below: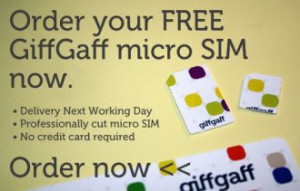 How cheap is Giffgaff?
As you can see from the table below, your credit goes a long way with Giffgaff and they offer fantastic value compared to other UK networks.
| Network | Calls | SMS | Data | MMS | 0800 | Voicemail |
| --- | --- | --- | --- | --- | --- | --- |
| Giffgaff | 15p | 5p | 1p/MB | 16p | 0p | 8p |
| O2 | 5p | 5p | 1p/MB | 25p | 15p | 15p |
| T-Mobile | 30p | 12p | 6p/MB | 30p | 40p | 20p |
| Vodafone | 30p | 14p | 4p/MB | 36p | 0p | 21p |
| Orange | 25p | 12p | 8p/MB | 40p | 25p | 25p |
How much does data cost on the iPhone?
Giffgaff have easily the cheapest data offers available in the UK. Data starts at just 1p/MB for your first 20MB each day. If you require more, it's best to get a £10 goodybag that comes with unlimited data. And this is truly unlimited data unlike that on other carriers with hidden fair use policies buried in the small print. Even better, you also get 250 any-network minutes and unlimited texts included in your £10 goodybag.
For more details as to how all of Giffgaff's prices compare, check out our full PAYG price comparison table.
How much are iPad/tethering bundles?
If you want to use your Giffgaff micro-SIM with an iPad or other tablet or even tethered to your computer, they also offer the cheapest data bundles. They start at just £5/month for 500MB data allowance with other options of £7.50 for 1GB and it only costs £12.50 for a massive 3GB quota.
How do I use Giffgaff on my iPhone?
It's easy – iPhones are fantastic on Giffgaff. First you must ensure that your iPhone is either unlocked or on O2. Next, simply go to the Home Screen then tap Settings > General > Network > Cellular Data Network and input the following settings:
Cellular Data:
APN: giffgaff.com
Username: giffgaff
Password: password
MMS:
APN: giffgaff.com
Username: giffgaff
Password: password
MMSC: http://mmsc.mms.o2.co.uk:8002
MMS Proxy: 193.113.200.195:8080
MMS Max Message Size: 307200
MMS UA Prof URL: [Blank]
Your iPhone will now be fully set-up with Giffgaff! Visual Voicemail won't work but there are free alternatives and calls, SMS and MMS messages, mobile data and Facetime all work correctly.
You might also want to check out the giffgaffer's guide to iPhone 4 and the MyGiffGaff app.
How do I use Giffgaff on my Lumia 800/Droid Razr/Xperia S/other?
Simply go to our page of Giffgaff settings and click to appropriate link to learn how to fully set up your device.
Can I use Giffgaff on my iPad?
It used to be against the Giffgaff terms and conditions to use an iPad on the network but thankfully, with the advent of data-only goodybags, you can use iPads, tablets and dongles with Giffgaff. You can even use your Giffgaff micro-SIM to create mobile wifi hotspots.
What is a micro-SIM?
A micro-SIM is simply a smaller form-factor of a regular SIM card. SIM stands for Subscriber Identity Module and it is a small microchip that stores information for a mobile phone. It contains information about your network account allows your phone to communicate with your mobile network.
Originally SIM cards used to be as big as credit cards but they soon got cut down to the normal size we are used to today. Micro-SIMs are just even smaller versions that are used to leave more room for other components inside the device. Currently, the micro-SIMs are mainly used in the iPhone 4, iPhone 4S and the iPad.
Can I transfer my credit from my existing SIM to my micro-SIM?
No, unfortunately not. There is currently no way to transfer Giffgaff credit between accounts. If you order a micro-SIM from us, you should prepared to start an entirely new Giffgaff account. If you need a micro-SIM for your existing previously-activated account you should either use up your existing credit or cut your current SIM down to size.
Are the micro-SIMs cut with scissors?
No. All micro-SIMs are manufactured specially, they are not cut down from regular size :sims: so they are guaranteed to fit into your device cleanly.
How long does the micro-SIM take to arrive?
We post all micro-SIMs by Royal Mail and usually manage to get them out within 24 hours of receiving an order. They typically arrive in a couple of days. Be patient though – it's worth waiting for.
How do I bring my number with me?
It's very simple to ask the agents on the Giffgaff website to port your old number over and it usually only takes one working day. For more information, check out our guide to PAC codes and porting your mobile number.
How do I activate my micro-SIM?
To activate your SIM and start using Giffgaff and enjoying free calls and texts, all you need to do is top-up £10 worth of credit. You even have to option to directly top-up with a goodybag or to buy a goodybag with your credit. And don't forget – if you order your SIM through the link here you'll get £5 free credit meaning your £10 top-up will actually buy you £15!
Where can I get a regular SIM card?
As all Giffgaff SIM cards are dual micro-and-regular hybrids, you can use the SIM ordered from the link above as a regular SIM card too. Just click the image at the top of the pages or head over to our free Giffgaff SIM card page to order yours now. You can also get a nano-SIM for your iPhone 5 or iPad mini. Remember, all SIMs ordered through this website come with £5 free credit!