It's taken five years but finally Ofcom has completed the 4G spectrum auction. We may be miles behind pretty much every country in Europe, but at last, all networks will soon be able to offer a 4G service in the UK.
The latest auction of spectrum consisted of two frequency bands capable of carrying 4G communications: 800 Mhz and 2600 Mhz. The 800 Mhz frequency band is much more valuable as it travels about 10 times faster making it more useful for long-distance rural applications without requiring as many masts. In contrast, the 2600 Mhz band works well in densely-populated areas such as city centres.
It was thought that Three Mobile would not manage to afford any of the 800 Mhz but it did manage to get hold of a small slice and only had to pay the reserve of just over £200,000. Vodafone paid a huge amount to secure the maximum amount allowed under the rules. O2 also paid a lot to get as much 800 Mhz spectrum as possible. This is likely due to the fact that O2 has long been maligned for having very poor 3G coverage outside of major urban areas. Having a large amount of low frequency spectrum to hand will hopefully allow it to plug these gaps. The big surprise was that all the operators managed to get themselves a share of the more valuable 800 Mhz band. This hopefully will encourage more competition.
As for the 2600 Mhz band, only O2 and Three didn't manage to grab any. This means that EE acquired a large amount as did Vodafone. Because of the slight imbalance, it's thought by industry analysts and Ofcom staff that some agreements might be hashed out between the networks for them to share masts or trade some of the spectrum they now own. EE is already offering 4G wireless data servers that it calls "superfast" broadband. And all networks will use the new spectrum they have bought to provide much fast 4G internet services to mobile phones and tablets.
The full picture of how the mobile spectrum is divided up is as follows: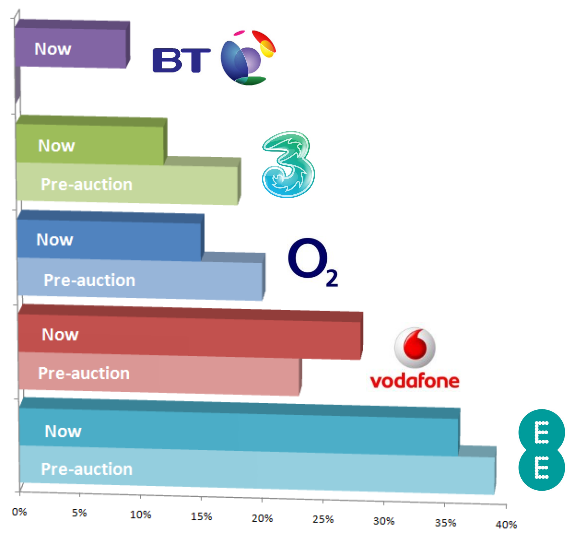 There were seven bidders in the auction but only five won any spectrum. O2, Vodafone, 3, EE and, new kid on the block, BT. It is thought that BT will not launch a mobile phone service (they originally owned BT Cellnet which became O2) but rather that they will use their spectrum to provide wifi hotspots.
The amount spent by each network varies quite a lot. Vodafone spent the most forking out a massive £791 million. It's the only network to have made a net gain in the amount of spectrum it now owns. EE, which is easily the largest mobile network in the UK after it was formed when T-Mobile and Orange merged, spent almost as much. They paid £589 million but didn't get much of the lower frequency spectrum. O2, which probably has the worst 3G coverage cheaped out and would only commit £550 million. However, they did get a lot of 800 Mhz spectrum which should allow them to improve their rural coverage.
What do you think of the results of this auction? Did any of the bids catch you by surprise? Did O2 get enough, should EE have got more low frequencies, did Vodafone overpay? And what do you think BT could do with their spectrum?