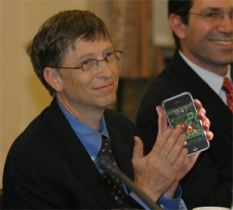 In a recent interview with CBS, Bill Gates has admitted that Microsoft missed a trick with the popularity of smartphones. Gates, ex-CEO of Microsoft and the founder and funder of the largest transparently operated private foundation in the world was probably referring to quotes made around the time the iPhone originally launched.
Back in 2007, Microsoft CEO Steve Ballmer said the following in an interview:
There's no chance that the iPhone is going to get any significant market share. No chance. It's a $500 subsidized item. They may make a lot of money. But if you actually take a look at the 1.3 billion phones that get sold, I'd prefer to have our software in 60% or 70% or 80% of them, than I would to have 2% or 3%, which is what Apple might get.
It's pretty clear now that Ballmer turned out to be completely wrong on all counts. And Gates admitted in a recent interview that Microsoft made a "mistake" by not foreseeing the influence and importance smartphones would play. Microsoft had invested quite a lot in tablets and normal mobile phones but was left floundering by the success of Apple's iPhone. Even now, with the advent of the new Windows Phone 8 operating system, Microsoft still trails behind Android, iOS and BlackBerry in global phone sales.
At the time of the iPhone launch, Microsoft was pushing software called Windows Mobile. This was way before the advent of the modern Windows Phone OS and it paled in comparison to offerings from Apple and Google. Microsoft finally gave up on it in 2008 and took two more years to introduce Windows Phone. In the meantime, the smartphone market has exploded and, after initial gains by Apple, is now dominated by Google's Android as well as Apple's iOS.
The strategy Microsoft has used for mobile phones since hasn't helped it gain much traction. They seem mainly concerned about making money from mobile rather than making the best possible experience for end users. While we applaud the fact that Bill Gates has admitted the mistake several year later, it remains to be seen whether Micrsoft's position in the mobile market can ever recover especially after mocking the iPhone back in 2007.
Bill Gates recently revealed that he uses a Surface Pro to use the web when at home but he hasn't said anything about what phone her personally uses even if it should be safe to assume he runs a Windows Phone.
And in case you haven't got enough Bill Gates yet in this article, here's a little something to leave you with: