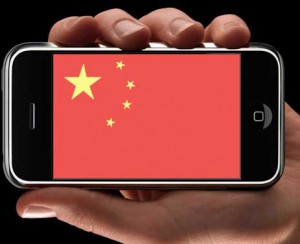 If there were any doubts remaining about the mobile market in China, the latest figures will surely put them to rest. Needham & Company analyst Charlie Wolf's quarterly report came out last month as confirmed that China's stratospheric boom in smartphone sales shows no sign of letting up any time soon. With an ever growing middle class and their new-found disposable income as well as technological advances and falling hardware prices, the latest figures are all but inevitable. The report claims that there are now over 33 million smartphones shipped in China every quarter. That's a gargantuan year-on-year increase of 164% and a yearly equivalent of over 130 million. The same time last year, just over 10 million smartphones were sold and even in the previous quarter the figures were only just over 25 million. At this rate, we could easily see 40 million smartphones shipped in China in the next quarterly report.
When compared to UK sales figures, these numbers are impressive. But it might even surprise you to know that China is now buying more smartphones than the United States where only 25 million units were sold in the last quarter. In fact, in the last year the Chinese markets leapfroged not only the Oceania and Asia-Pacific market and the American market but also the whole of the Western European region in terms of market share.
According to the report, the new range of cut-price smartphones is largely responsible for the meteoric boom. Especially with many Asian manufacturers producing incredibly cheap but powerful devices, the road has been laid for the massive increase in smartphone shipments. However, it is not only cut-price smartphones that are selling like hot cakes. Apple has also captured a significant 17.3% share in the smartphone market in China with its expensive iPhone. This is largely thanks to tempting subsidies offered on two of the major carriers, China Telecom and China Unicorn. These figures are only set to rise too as rumour has it that China's largest network China Mobile will soon be able to carry the iPhone too. With more than 650 million subscribers, it is easily the largest mobile network in the world and even if only a small fraction of these users start using an iPhone, it'll mean millions of extra units shipped for Apple.
However, still dominating the market in China is Google's Android. The open source operating system has control of almost 70% of smartphones sold in the country which is mightily impressive. Much of this must be due to the lower prices and better value Android offers savvy customers. Although, of course, the extra ability for customisation and power features will also be attracting power users. Nokia is lagging behind in third place in the Chinese smartphone market with just over a 11% share.
Do you think the Chinese smart phone market can keep on growing at the same pace? Will Apple increase its market share in China? And which world region do you think has a chance of expanding at the same rate?