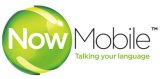 Summary
2G coverage: 99%3G coverage: 93%
Coverage map
Now Mobile is a virtual network that runs on the Orange network. You can check the Now Mobile coverage map to find out about the signal strength in your local area.
More info
Now Mobile is run by Nowtel and is relatively new to the UK market having only just started in 2010. Unlike other virtual mobile networks that specifically target users looking for cheap international rates, Now Mobile also has competitive pricing for UK calls and texts. They already have a decent-sized customer base thanks to the price scheme. Another benefit is that PAYG data is very cheap indeed and they have a very wide variety of great value bundles on offer.
Since Now Mobile runs on the Orange network, it has great coverage for 2G and 3G. Also now that T-Mobile has merged with Orange, you can use both company's signal when using Now Mobile. If you check the coverage links we have included above, you should find that there's decent signal quality in your area.
For more information, use our coverage comparison table to compare Now Mobile's coverage with other networks' or check out our complete Now Mobile review.