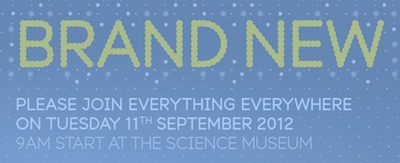 It just goes to show that you can't trust mobile networks. After their straight-up denial that they would be rebranding Everything Everywhere have dropped some pretty strong hints that they'll be launching a new exclusive 4G brand in the UK tomorrow.
Everything Everywhere – which was formed by the merger or Orange and T-Mobile in 2010 – has always suffered some criticism for its choice of brand. Recently, when it was awarded the 4G monopoly in the UK for the next year or so, there were rumours that the company would take advantage of this situation by launching a new 4G-focussed brand name. At the time, company spokespeople vigourously denied this claiming that the well-recognised high street names would remain.
However, it now seems they weren't being entirely truthful. Will the new iPhone 5 expected to be announced on Wednesday and all-but-certainly to come with 4G connectivity, Everything Everywhere are riding the wave by showing off their exclusive right to offer 4G connections (to iPhones and other phones) here in the UK.
There has only been heavy hint-dropping and no official announcement from Everything Everywhere as of yet but they have recently registered many 4G-related trademarks so it seems pretty clear than the new brand name will be related. Although analysts have suggested that it will further confuse consumers who largely are still unaware that Orange and T-Mobile are not separate brands any more, it's fairly certain that a new mobile brand is coming to the Everything Everywhere family.
The brand-new (no pun intended) Nokia Lumia 920 is coming out in the UK soon too. Like the iPhone 5, it will be 4G enabled and, as Everything Everywhere is the only company running a working 4G network, it seems they will have an exclusive deal on that too. In any case, while we can't be sure until the official announcement tomorrow, currently we're betting that tomorrow will see the launch of a new 4G brand from Everything Everywhere highlighting these two phones. Let's wait and see 🙂